The Lady in the Van
Alan Bennett
Theatre by the Lake, Keswick
(2008)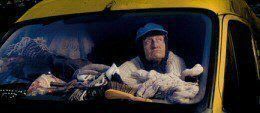 Alan Bennett has adapted his very short book The Lady in the Van, based on his real-life experience of having an old woman living in a van in his front garden for fifteen years, into a longer stage play.
After being moved on or moving herself on from in front of several other houses in the street, Alan Bennett allowed the eccentric and cantankerous Miss Shepherd to park her battered Bedford Van in which she lived in his garden for three months, where it remained until her death fifteen years later. In the meantime, Bennett is arranging to put his mother in a home due to her bouts of depression and her rapidly-deteriorating mental state.
The play features no less than two Alan Bennetts: one who acts as a narrator looking back over the whole story and the other who plays the role of Bennett in the story itself. This is less complicated in performance that it is to explain or to visualise, and it creates some interesting and funny arguments between the current, omniscient narrator Bennett and the Bennett still experiencing events as they occur. Martin Johns's set puts Bennett's office on one side of the stage and a giant map of Camden on the other, which eventually flies to reveal the van, full-sized and on a revolve, with a photographic backdrop of suburban houses.
As well as playing one of the old women in Arsenic and Old Lace superbly, Pamela Buchner is wonderful as the eponymous Miss Shepherd, and genuinely seems to age subtly as the play progresses. Peter Rylands captures the essence of Bennett's voice just right, while David Ericsson looks a little more like him as the Bennett character in the scenes. Dinah Handley plays the relatively small part of Bennett's mother, Krissi Bohn is wonderfully patronising and smugly superior as the social worker, and other parts are played by Patrick Bridgeman, Sara Coward and Stephen Ley.
The ending seems to be dragged out a little, as after Miss Shepherd has had her characteristic 'last word', Bennett insists on making it clear to us that lots of other things happened to him during the twenty years covered by the play and that Miss Shepherd was an incidental part of his life and not central to it. However this doesn't at all mar this excellent production of an entertaining and often very funny play, and it is all the more amazing to think that this actually happened.
In rep until 1st November
Reviewer: David Chadderton