Thoroughly Modern Millie
Book by Richard Morris and Dick Scanlan
New music by Jeanine Tesori and new lyrics by Dick Scanlan
Theatre Royal, Newcastle, and Touring
(2005)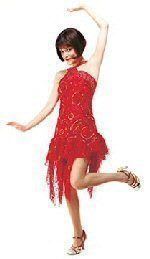 Based on the original Universal Pictures film (story and screenplay by Richard Morris), which starred Julie Andrews, James Fox, Mary Tyler Moore and Carol Channing, this 2002 stage version, which won six Tonys and five Drama Desk awards, is very much a child of this time. Although the setting, costumes and music are roaring twenties, this close-to-parody-but-not-quite production is very 21st century.
The first thing to say about it is that it's great fun. Indeed, at times it positvely fizzes. This is more than a little due to the slightly over the top performances from the entire cast. The intention seems to be, to some extent, to send up the '67 film version, not reproduce it, and that is definitely a good thing. To do otherwise would be to make it something of a museum piece: our expectations of music theatre have changed and revivals should take that into account or they seem terribly dated - which was, I have to say, my reaction to High Society, which is also currently touring.
Julie Andrews was right for 1967 and Donna Steele is very definitely right for 2005. She captures the naïveté of the character beautifully whilst still allowing us to believe in her, and, as Millie grows more sophisticated, Steele's performance makes it clear that that sophistication is really a veneer. Given the restrictions of the book - and musicals are not known (generally: there are exceptions) for depth of characterisation - this was quite a subtle performance. Beneath the loud, brash exterior there was a real person.
Subtle is not the word to describe Lesley Joseph's Mrs Meers. The character has plenty of opportunities for laughs and Joseph grabbed every one. At time she almost approached pantomime dame in the broadness of her playing. But she carried it off and (a sure sign of success this) left us unable to imagine any other way of playing the part! She's a Newcastle favourite after her panto appearances at the Theatre Royal and this audience loved every gesture, tone of voice, and, in particular, her asides to them.
Mind you, I have to wonder at why a former New York chorus girl has a cockney accent!
They were well supported by the rest of the cast: a sultry Grace Kennedy as Muzzy Van Hossmere; Robyn North who looked scarily like Sarah Brightman as Miss Dorothy Brown; Richard Reynard as the smitten Jimmy Smith; Andrew Kennedy as the pompous Trevor Graydon who becomes a totally different man under the influence of love at first sight; Unku as Bun Foo and Yo Santhaveesuk, who appealed to every woman in the audience as the lovelorn Ching Ho.
And a special mention of the very talented Nicola Blackman as Miss Flannery, whom we all hated initially but who earned a special cheer at the curtain call.
As we have come to expect with modern musical productions, the chorus were impeccable, clearly very talented performers.
However - yes, there is a "however" - please sound operators, give Donna Steele a bit less top and more mid-range, even a bit more low frequency boost. At this performance she sounded sharp, although she wasn't singing sharp. This is something I have noticed a lot recently: there is a tendency for female singers, particularly at the soprano end of the scale, to be made to sound harsh (and I do believe it's a technical thing rather than something in their own voices), as if the low frequencies are being severely cut. We could do with a bit more mellowness.
The show runs at Newcastle until 14th May and then goes on to Glasgow (King's), Stoke (Regent), Woking (New Vic), Wolverhampton (Grand), Edinburgh (Playhouse), Cardiff (WMC), Plymouth (Theatre Royal), Liverpool (Empire), Bristol (Hippodrome), Southampton (Mayflower), Norwich (Theatre Royal), Wimbledon (Wimbledon Theatre) and Nottingham (Theatre Royal).
Reviewer: Peter Lathan