Tell Me on a Sunday
Music by Andrew Lloyd Webber, lyrics by Don Black
Sunderland Empire and touring
(2011)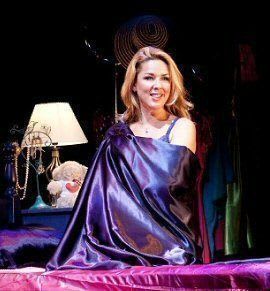 For those who don't know it, Tell Me on a Sunday is a one-woman sung-through musical piece which shows us the love-life of an Englishwoman in New York (Laura), starting when she breaks up with one man and taking us through affairs with a Hollywood producer, a man younger than herself and a married man.
I know all the arguments - Tell Me on a Sunday is lightweight; although it deals with a serious topic, it does not do so in any depth; it has the typically Lloyd Webber device of finding a good tune and using and reusing it (five tunes used thirteen times in this comparatively short piece) - but I still like it. I've seen it numerous times and I almost wore out the Marti Webb tape with playing it in the car in the eighties. More recently my Denise Van Outen CD version still gets played a lot. So I was definitely predisposed to like this touring version, a new (2010) production which originated at the Royal and Derngate in Northampton.
Of course, it is essentially a song cycle (if I remember correctly, early copies of the score had the instruction that it was not to be presented in dramatic form) and so staging it does present problems. If - again! - I remember correctly, the TV production was not dramatised in the way that subsequent stage productions have been. So director Tamara Harvey and her designer Janet Bird have to find a way of staging the piece which is effective but which is different from that of Matthew Warchus, director, and Christopher Luscombe, director of the touring version, of the production which did the rounds in 2004.
Bird gives us a rather cluttered apartment which does suit the piece but I was less happy with Harvey's somewhat fussy direction. Too many changes of costume and a rather cringe-making scene in which Laura stands on the bed, wrapped in a purple sheet, and scatters flower petals. Almost cliché.
And she made some very odd directorial choices. In the very powerful "Take that look off your face" towards the end of the first act, she has the woman making and serving coffee to the (unseen) friend, who has obviously delighted in telling her about her boyfriend's defection, whilst pouring out her anger and hurt. Are we meant to take the song as her inner thoughts as she maintains a polite outside? If so, it didn't work for me.
But the success of the piece stands or falls by the performance of the person playing Laura, for it is a very demanding role for an actor/singer. In this production it is Claire Sweeney whose voice, at the performance under review, seemed to be experiencing some problems. She occasionally switched, for a moment or two, from the pop style which suits the part to a more trained, semi-classical style, as if straining to reach a top note, something which, at one point, she failed to do. There was some odd phrasing too, especially in the title song.
The audience seemed to enjoy the show - one section, indeed, was very enthusiastic - but I have to confess to a certain disappointment. As I said at the beginning, I love the show, but this production doesn't quite hit the spot.
At Sunderland Empire until 9th April, then touring to Richomnd, Liverpool, Stoke-on-Trent, Windsor, Sheffield, Inverness, Nottingham, Darlington, Edinburgh, Glasgow, Woking, Cardiff, Norwich and Malvern.
Steve Burbridge reviewed this production at Darlington Civic.
Reviewer: Peter Lathan