Tell Me on a Sunday
Music by Andrew Lloyd Webber, lyrics by Don Black
Darlington Civic Theatre and touring
(2011)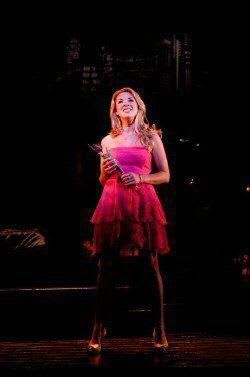 It seems that popular culture has a peculiar preoccupation with young women going to New York to find a career, a husband and a happy-ever-after. In the theatre, Millie Dillmount upped-sticks from Salina, Kansas, to head for the Big Apple in Thoroughly Modern Millie and Lola Lamar bid farewell to Tulsa, Oklahoma, in favour of NYC in Copacabana. On film, Andy Sachs graduated from Northwestern University and landed a prestigious job with 'Runway', a fashion magazine based in New York, and, on television, Carrie Bradshaw arrived in 'the city that never sleeps', aged 21, and ended up writing a weekly sex column for The New York Star in Sex and the City.
Similarly, in the Andrew Lloyd Webber and Don Black hit musical, Tell Me On A Sunday, Laura is a Liverpudlian girl (although, originally, the character came from Muswell Hill) who has made New York her home. Brimming with optimism, she seeks success and love. But as she weaves her way through the maze of the city and her own anxieties, frustrations and heartaches, she begins to wonder whether she's been looking for love in all the wrong places.
Originally conceived for television, starring Marti Webb, the role has also been performed by some big names from the world of musical theatre, including Sarah Brightman, Lulu, Denise Van Outen, Faye Tozer and Patsy Palmer. This latest version has been tailored to suit the current incumbent, Claire Sweeney and there has even been a new song added, 'Dreams Never Run On Time'.
Sweeney has a charm and charisma within her performance, is easy on the eye, and connects well with the audience. She delivers the musical numbers with emotional intelligence and beautiful enunciation and one feels that they are all heartfelt. Her strength lies in her ability as an actress rather than a singer, which enables her to sell a tune despite the fact that she is not a 'belter'. The five-piece band, under the musical direction of Leigh Thompson, are bang-on and never miss a beat.
The set, designed by Janet Bird, effectively depicts Laura's studio apartment with a lounge area to the fore and a kitchen and bedroom, slightly higher, further back. Girly props and satin sheets also contribute a feminine feel. The updated version now sees Laura armed with a pink laptop and the 'Writing Home' songs are now done via e-mail. These touches work nicely enough.
It is a rather large undertaking to expect one performer to keep an audience of around 1,000 people entertained, predominantly with song, for approximately 90 minutes. However, Claire Sweeney pulled it out of the bag and neither of the two 45 minute acts ever lost their momentum.
"Tell Me on a Sunday" is at Darlington Civic until 11th June, then touring to Edinburgh, Glasgow, Woking, Cardiff, Norwich, Malvern, Eastbourne and Aberdeen.
Peter Lathan reviewed this production at Sunerland Empire
Reviewer: Steve Burbridge