Aladdin
Book by Trish Cooke, songs by Robert Hyman
Theatre Royal, Stratford East
(2009)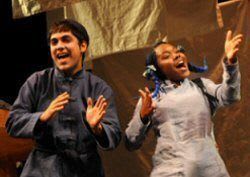 The Theatre Royal has developed a tradition of a full blooded panto that involves its audience and tells its story in a clear and straightforward way with no speciality spots for soap stars or television comics. There is not a lavish budget to pay for dozens of dancers or spectacular staging but a relatively small company of all-rounders and an extra dose of imagination in design. That doesn't stop it from being well performed and beautifully staged.
This year Jenny Tiramani's settings and Kristen Dempsey's costumes are especially effective. A rich red and black fan sparkling with gold as a front cloth which folds open, great discs of orange sun or blue sky behind sets which use strong simple colour: hanging racks of white laundry, shop windows stacked with goods in shades of blue, a palace in blue and silver and a great talking sphinx (using 3D video) that transforms into a huge falcon watching over the interior of the tomb.
On press night the show started of very well with Chloe Allen's Wishy, Alton Letto's Washy and Sharona Sassoon's Royal Skivvy conducting a lively warm-up and a popular sing-along with numbers like 'She'll be coming round the mountain' and were just about ready to launch the shop proper when house staff came up on stage and announced we all had to leave the theatre. No one had heard the fire-alarm, drowned out by our singing, but gone off it had.
Health and Safety will be glad to know we were all out in record time despite wheel chairs and quite a lot of tots who had to be carried, and assembled in Theatre Square where the front cloth team were soon back in action standing on benches getting everybody singing 'Ten Green Bottles' while we waited for the fire-engine to arrive. Fortunately there was no real threat: it was a false alarm. A smoke machine had been moved to a new position and smoke gone into somewhere where it set of the alarm which automatically called the brigade and could not be shut off until they had confirmed there was no danger.
We went back in an even more united audience, welcomed Wishy and Washy back on stage and then the fan opened to reveal the evil Abanazar (Michael Bertenshaw) prospecting around the pyramids with a metal detector. There is nothing exceptional about the baddie starting Aladdin, but Stratford pantomimes regularly take an unusual stance and, with the evil magician presenting himself as an aging friendly uncle figure, it was not long before he was gaining the audience's co-operation in spotting items of value in the desert and helping him discover a magic ring. They did not pick up the warning when the old meanie tossed one sweet out into the audience and suggested they pass it down the row to share it. Not until he reneged on his promise to share his findings and celebrated his now found power in song did they realise just how big their mistake was!
Deeivya Meir's Princess Jasmine is not the traditional princess - she dreams of being a truck-driver - while Darren Kuppan's young Aladdin is no bright ideal son; he's a lazy fellow who has no intention of helping mother in the laundry or taking any other job when he leaves school and, when he becomes rich and princely, forgets all about his mother and his friends. Of course, by the end both he and Abanazar have been magically reformed.
Ma Twanky is played by Derek Elroy as a Caribbean mother with a lot of style, and without the succession of outrageous camp couture or the butch overtones that mark out many dames. Again it seems a Stratford East style to play more genuinely feminine while retaining the licence travestie gives to add satirical bite to the characterisation. His performance is a solid anchor in an ensemble show.
Toni Palmer, an old Stratford hand from Joan Littlewood days, make a beautifully common Slave of the Ring, looking worn out by her centuries as a prisoner though her dress is sparkling, and Peter Straker is the Genie of the Lamp, though we don't get nearly enough of that voice with its fantastic vocal range in Robert Hyman's songs.
The first couple of scenes seem to go on well after they have made their points, but perhaps that was because the audience was already up to speed with what had gone before and from then on Kerry Michael's production took off with added vitality injected by some sprightly dancing ,cleverly choreographed by Omar Okai not to push beyond abilities and to make the most of individual skills.
This is a production that perfectly matches the house and its audience's expectations and I reckon all of them had as good time as I did.
Until 16th January 2010
Reviewer: Howard Loxton