The Sleeping Beauty
Vienna Festival Ballet
Grand Opera House, York
(2006)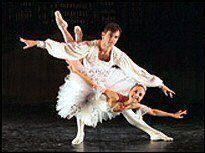 Lovers of The Nutcracker, Swan Lake and The Sleeping Beauty have probably never had it so good. Touring companies regularly bring small-to-medium scale productions of the Tchaikovsky favourites to venues all over the UK, which is of course a Good Thing, but as with all Good Things one can have too much of it - critics in particular are at risk of succumbing to a surfeit of sweets, swans and slumbering princesses. All the more credit then to Peter Mallek's Vienna Festival Ballet for coming up with the most enjoyable Sleeping Beauty I've seen for years.
The fact that the company is composed of young dancers at the beginning of their careers is largely responsible for the freshness and zest they bring to the old fairytale. A King and Queen (Daryl Raizai and Marina Simeonoglou) celebrate the christening of their daughter, Princess Aurora (Ryoku Yagyu). Five good fairies (Emily Pimm, Manami Sato, Georgina Pimm, Yumiko Teigen and Eva Koniavitou) have been invited to bless the baby but the wicked fairy Carabosse (Patrycja Lauria) was left off the guest list. Understandably miffed at such discourtesy, Carabosse gatecrashes the party with two apelike henchmen (Richard Read and Gledis Tase) and casts a spell on Aurora - on the Princess' sixteenth birthday she will prick her finger on a spindle and die. Fortunately the Lilac Fairy (Laura Longato) is at hand to modify the curse. Aurora will not die but sleep for a hundred years until a handsome prince awakens her with a kiss.
This being a fairytale, everything comes to pass exactly as the Lilac Fairy foretold. Prince Florimund (Juan Pulido) is led to the enchanted castle by a vision of Aurora and awakens her. Their lavish wedding celebrations are attended by Red Riding Hood (Georgina Pimm), the Wolf (Gledis Tase), Puss in Boots (Richard Read), the White Cat (Patrycja Lauria), Princess Florine (Manami Sato), the Bluebird (Jerome Peytour) and the Sapphire, Ruby and Diamond Fairies (Emily Pimm, Eva Koniavitou and Marta Soteras). And I think it's safe to assume that they all lived happily ever after.
The Vienna Festival Ballet's Sleeping Beauty is a thoroughly traditional production with choreography by Sheila Styles after Marius Petipa. Pretty, unpretentious and strongly danced by the entire cast, the show is an ideal introduction to classical ballet. The sets are more than adequate by touring standards and the costumes are gorgeous, but the programme is strangely coy about revealing who was responsible for what - "designers such as Alan Sievewright, Ella Hune, Elizabeth Gale and Esperanza Carmona" is an odd way to credit such an important aspect of the show.
Finally, it was a particular pleasure to see so many children and teenagers enjoying this performance of Sleeping Beauty. The delightful Ryoko Yagyu is everyone's idea of a fairytale princess, and I suspect that many young girls will be pestering their parents for ballet lessons after seeing her performance. Budding Billy Elliots, on the other hand, must have been just as impressed by the athleticism of Juan Pulido and Jerome Peytour. This production, touring in tandem with The Nutcracker, is the perfect pre-Christmas treat for the whole family.
Touring to Yeovil, Bedworth, Hayes, Stroud, Chippenham, Leamington Spa, Swanage, Felixstowe, Newport and Pershore. Tour ends 16th December
Reviewer: J. D. Atkinson