Very Little Women

Lip Service/Chester Gateway at York Theatre Royal and touring
(2004)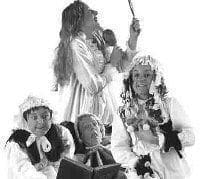 Having unleashed their deconstructionist talents on the works of Conan Doyle, the Bronte sisters, Homer and Joanna Trollope, it was only a matter of time before Lip Service set their sights on Louisa May Alcott's much-loved and apparently indestructible Little Women. Those familiar with Lip Service's previous forays into the world of classic literature will know exactly what to expect - two women playing umpteen parts, the use of puppets and cut-outs to eke out the cast, hysterical sight gags, a misbehaving set and an obvious affection for the text being sent up. This hilarious take on Little Women, directed by Mark Chatterton, puts back all the things Alcott unaccountably left out - transvestism, false bosoms and more kittens than you can shake Amy's detachable wooden head at.
In Lip Service's reworking of Alcott's novel the four sisters are played by Sue (the petite one), Maggie (the willowy one) and a puppet (which stands in for Amy until Beth's demise leaves Maggie free to take over the role). Who plays whom depends entirely on the demands of the plot, and is further complicated by the fact that they also play Laurie and Professor Baer. The girls' devoted but disconcertingly butch Marmee is played by guest artist Matthew Vaughan, who also dons a frock to impersonate both the hapless German recipient of the sisters' ham-fisted charity and Jo's New York landlady - a fluttery Southern belle who must surely be the grandmother of Blanche du Bois. Quick changes and clever use of props allow three actors to play eleven roles between them, but there are limits even to Lip Service's ingenuity. For obvious reasons we never see Laurie from the waist down ("I wish we could see more of you!", says Jo) and Mr March never appears in person, although by moving across the stage in tight formation his family can still give him a hero's welcome
The best-known incidents in the novel are probably Beth's untimely death and her sisters' romantic entanglements. Lip Service make the most of both; Beth is obviously doomed from the start - "Oh, Beth, you're too good to live for very long!" - and she expires, very suddenly, whilst playing with a rabbit puppet which miraculously shows signs of animation even after her demise (we know the poor darling's soul has gone straight to Heaven because we see it hurtle across the stage). Meg's affair with John Brook is surprisingly passionate considering that he is played by a department store dummy, and after their marriage she gives birth, quite logically, to a litter of plastic dolls. Perhaps her fertility was caught from the family cat, which fills the March household with kittens that come in handy for use as Christmas tree decorations and handkerchiefs.
I have to confess that although Little Women was one of my favourite books as a child - I owned a tatty War Economy edition that once belonged to my mother and read it until the covers fell off - I haven't looked at the book for years. A Lip Service parody may subject a book or literary genre to some not-so-gentle mockery but it never sneers at either the works themselves or the people who enjoy them, and as I made my way home after the show I resolved to re-acquaint myself with Alcott's syrupy but heart-warming old favourite as soon as possible.
At York Theatre Royal until 16th October, then touring to Durham and Ipswich
Reviewer: J. D. Atkinson