Bloody Poetry
Howard Brenton
Cara Luna Theatre
White Bear, Kennington
(2009)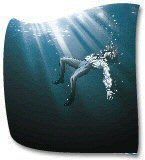 Exactly 25 years since Howard Brenton's play premiered at the Leicester Haymarket, this fine revival by Rebecca Morahan — a new force for good in the theatre — rediscovers the essentially modern political conscience that first inspired the author to research the liberal, libertarian lives of the revolutionary poets Shelley and Byron.
Using letters, journals and, above all, the poetry of the period, including lines by Wordsworth and Blake, Brenton's biographical drama is strongly grounded in recorded fact while giving a fevered intensity to events.
The time span is the six years from 1816, when the two men and their womenfolk first met at Lake Geneva, until 1822 in Italy, when Shelley was drowned in a boating accident in the Gulf of Spezia: a study of their complex relationships and rivalries, their lives of freethinking, free fornication littered with dying children.
The stark stage design by Fly Davis uses no more than coiled rope to suggest dangerous days at sea in a small boat, while languorous Venetian moments in a gondola are expressed by figures recumbent on cushions. Lighting and sound effects are also kept to a minimum.
Instead our whole attention is focused on the six young actors who reanimate the past, giving a revolutionary urgency to troubled lives and bloody poetry, culminating in Shelley's posthumously published but influential verses about the Peterloo massacre: "Ye are many — they are few."
The central figure is Richard Holt's slim, handsome Shelley, handling the extended verse passages with impressive clarity and understanding. He also invests the role with a jaunty, little-boy-lost charm that helps explain the poet's selfish disregard of family responsibilities in pursuit of utopian ideals.
He meets his match in a superb duologue with Ellie Turner as the headstrong Mary Shelley (his mistress and author of Frankenstein), as they debate the possibilities, or otherwise, of getting married after his wife Harriet's death; she with the Shavian wit of a new woman and for me the most delicious performance in an evening of sharp encounters.
But any initial sense that the evening might become a succession of gentle conversation pieces and romantic poetry is already blown to smithereens by James Russell's powerful and sudden entrance as the earthy almost brutal Byron, here a tall, self-admiring hedonist, wilfully aristocratic, believably capable of shinning up a Venetian drainpipe in pursuit of a sexual liaison.
His swaggering, humorous portrayal also suggests the arrival of a powerful new personality on the London stage, giving the lie to Dame Judi's recent assertion that nowadays young actors are only eager for instant on-screen celebrity while neglecting the theatre, its history and traditions.
Another key figure is Mary's half-sister Claire Clairmont, played with romantic ardour by Felicity Davidson, who, while eagerly sharing her charms as mistress to both Shelley and Byron, is finally a figure of tragic despair as she learns of the death of her only child Allegra — fathered by Byron — in an Italian convent.
Kate Malyon gives a haunting cameo portrayal of Shelley's abandoned wife Harriet, about to plunge to her death in the Serpentine, which also shows us the value of live performance with another performance of great promise.
Finally Alex Barclay brings sinister comedy to his role as the Boswell-like Polidori, padding after Byron like a playground sneak, sending gossipy reports home to London, while creating strongly editorialised versions of events for his published reportage. Beautifully observed, his characterisation reaches its climax as a clubbable raconteur, wineglass in hand doing an oily turn as a celebrity watcher with a scandalous tale to tell.
An evening to treasure, this is an assured London debut as a theatre director, for Rebecca Morahan. The final performance of her small-scale production is on Saturday 31st October: don't miss!
Reviewer: John Thaxter