The Wind in the Willows
Kenneth Grahame adapted by Toby Hulse, with original music by Simon Slater
The Watermill Theatre, Newbury
(2011)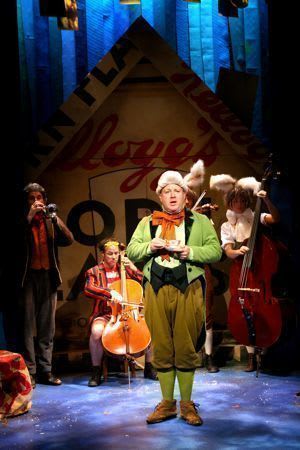 The idyllic Watermill Theatre is the ideal backdrop for Wind in the Willows as the River Lambourn meanders through the grounds and you half expect to see Ratty, Mole, Badger and Toad on the riverbank.
Toby Hulse's intelligent and witty adaption of Kenneth Grahame's classic tale is lovingly brought to life and is simply magical and a must see for all the family this Christmas.
Young Mole, the delightful Noami Sheldon, emerges from a gigantic hole complete with hard hat and light in Hayley Grindle's simple but enchanting set and "my oh my" what a captivating performance she gives as she discovers the joys of the river bank and the terrors of the wild wild wood.
The excellent Philip Buck, resplendent in striped blazer, is the charming Ratty eager to introduce Mole to the pleasures of the river with picnics and adventures in his boat complete with a plastic coffee spoon as an oar.
They meet wise Badger, graciously played by Steve Watts, whose catchphrase, "company pah", was soon picked up by the youngsters in the audience with great enthusiasm.
And then there was the ebullient, pompous Toad, a real tour de force performance from Howard Coggins who obviously relished his role as his fads took their toll.
His fascination with Gypsy caravans and motor cars—"poop poop"—lead Toad into roller coaster exploits where he ends up trapped in a jam jar, a wonderfully inventive piece of theatre.
The weasels and stoats have taken over Toad Hall, and once Toad is brought to his senses, Badger, Ratty and Mole devise a plan to use a secret passage to reclaim Toad's home. The ensuing battle is helped by some youngsters from the audience. Great fun.
Jack Beale and Lauren Storer provided sterling support as the rabbits, ducks and Wild Wooders.
Robin Belfield's inspired creative direction kept the action moving at a cracking pace. The highly talented cast play a variety of musical instruments with aplomb with Simon Slater's emotive score.
This was an enchanting Christmas entertainment best summed up by my four-year-old companion Henry: "brilliant"; and I must say I do agree.
Runs until the 7th January
Reviewer: Robin Strapp