The Barber of Seville
Gioacchino Rossini
Welsh National Opera
Birmingham Hippodrome
(2008)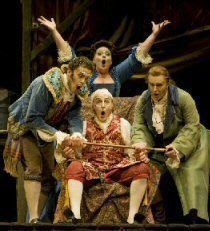 It was a close shave, making it to the performance, through a city centre brought to a halt by the annual Christmas stampede. But it was worth the stress and - almost - the near 200-mile round trip. This Barber is a cut above.
After the sturm and drang of a fine Jenufa and an equally demanding Otello, the offer of calmer waters by the WNO was inviting indeed. And Rossini's delightful comic opera with its hamperful of melodies proved just the ticket.
Giles Havergal's production, which was first seen in 1986, emphasises the artifice by staging Barber as a performance by a commedia dell'arte troupe before village folk who look on and interact from their vantage points on stage.
Action takes place on three levels of a wooden construction with Figaro's shop, screened by curtains that advertise his name, below. Steps lead up to the piano nobile and a large reception room and then to Bartolo's living room, stage left, and finally up again to Rosina's bedroom in the attic of the house.
If this all sounds over-complicated, it doesn't prove so in practice, thanks to meticulous direction by Havergal and equally precise conducting by Simon Philiipo. For those unfamiliar with the plot, standard farce, it can take a short while before one catches up, particularly if denied sight of the surtitles above.
However, it isn't long before one is in the swing and delighting in this comic confection, hailed as the finest of the genre. Young Spanish grandee Count Almaviva sees and falls in love with Rosina, the pretty ward of Doctor Bartolo.
Determined to woo and win her he follows her to Madrid. Having succeeded in his aim, however, he is still faced with prising her away from her guardian who has designs on her inheritance. Fortunately Figaro who, like Feste, 'wears not motley in his brain', is at hand and willing to help his former employer triumph.
In truth I have here to own to a near-aversion to farce and, despite an admiration unbounded for Shakespeare, am forced to summon all my resources in order to endure certain scenes of The Winter's Tale. So when I say that I genuinely enjoyed this, you may take it as a firm recommendation.
The period costumes by Russell Craig are easy on the eye and there is fine work by tenor Colin Lee (Count Almaviva) who delivers an unforced sweetness; American baritone John Moore, an engaging Figaro and, best of the bunch, Eric Roberts as the withered and waspish Doctor Bartolo, who is the engine of the comedy. He even gets to utter the famous Victor Meldrew line, "I just do not believe it."
Plaudits also should go to Tim Mirfin as the cadaverous singing teacher Don Balisio while WNO debutante Laura Parfitt sparkles intermittently. The English libretto, e.g., "Here's some Spanish/Now you all vanish", carries itself lightly.
Recommended.
Reviewer: Pete Wood