Madam Butterfly
Giacomo Puccini
Welsh National Opera
Wales Millennium Centre, Cardiff
(2007)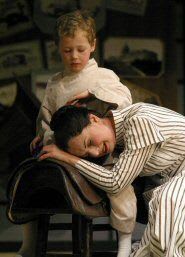 Ah!, the difference of production and production. A gulf separates the current WNO revival of Madam Butterfly and a touring production which shall remain nameless which did the rounds last summer. Setting the issue of quality aside for the moment, another key variant is the version of the opera opted for by the original director of this production, Joachim Herz. Rather than adopting the usually favoured final draft, Herz produced his own version based on material taken from Verdi's first, second and third drafts. This significantly alters the tone of the work highlighting the arrogance and casual xenophobia of Pinkerton, underlining the anti-imperialist sentiments of the saga. Thus, on being introduced to the servants by Butterfly, he declares: "What ludicrous names. I'll call them mugs one, two and three". And at his marriage feast he invites the consul to "have some of the most disgusting liquor in all Japan".
Paul Charles Clarke deftly conveys Pinkerton's impatience with a people and a culture he has no interest in understanding. Where the second act centres on Butterfly's deferred reunion with her husband, absent for three years, act one revolves around Pinkerton's unconcealed fretting to be in bed with his 15-year-old bride. A telling moment occurs early in the act when Butterfly shows him some of the deeply personal effects she has brought with to their marital home including a sash which he casually drops on the ground. Clay figures, which he dismisses as 'puppets' turn out to be the spirits of her ancestors.
Another key difference with this production is the sepia tone adopted by set designer Reinhart Zimmermann and costume designer Eleonore Kleiber. Brown and beige abound in a decision taken one imagines to downplay the 'exoticism' traditionally emphasised by a riot of colour and trailing blossoms. The effect is to underline the common humanity of Japanese and American, though this comes at a cost. It also has the benefit of focusing the audience on the drama taking place which is illuminated by a wealth of telling detail. We notice, for example, how the consul (Neal Davies) pointedly does not shake the hand of Goro, the marriage broker when they are introduced by Pinkerton.
But if the production pays attention to the detail, it is not at the expense of the big picture. Cio-Cio's denouncement at her wedding feast in front of her family by her uncle the priest, for converting to Christianity, is truly chilling and we realise, as she does not yet, that she is indeed, "all alone; alone and outcast".
What this production also reminded me of is that while it is melodramatic, Butterfly should still move us and although one is overly conscious from time to time of being 'worked', the characterisation is finely nuanced. Pinkerton may have had acted despicably but he is later shown filled with remorse at the happiness he has thrown away and the life he has destroyed. Butterfly too, a wonderful performance by Amanda Roocroft, is far more than a passive victim. We are touched by her naïve display of pride in being an American housewife but we also see her rage when her Suzuki (a fine performance by Clare Bradshaw) tries to tell her Pinkerton won't be coming back.
The sound from the Orchestra of the Welsh National Opera, conducted by Julian Smith, is crisp and balanced, beautifully served by this fine venue. Reports in one Sunday newspaper suggested that the WNO is currently facing financial problems and is scaling back on its touring commitments. One hopes not. Productions of this quality deserve the widest possible audience.
Reviewer: Pete Wood