Don Giovanni
Wolfgang Amadeus Mozart, libretto by Lorenzo da Ponte
Welsh National Opera
Wales Millennium Centre, Cardiff
(2011)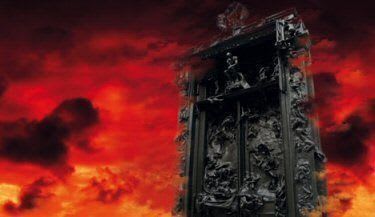 After opting for novelty with its staging of Così fan Tutte earlier this year, which relocated the action from 1780s Naples to an English seaside town in the 1960s, the WNO has reverted to a more traditional approach for its new production of Don Giovanni which is directed by John Caird and designed by John Napier. Centre stage looms a reproduction of Rodin's the Gates of Hell.
Hooded figures which seem to have stepped out of Star Wars advance, retreat, shunt sections of the monolithic set around, or simply look on as best they can in a light that can best be called crepuscular. The sense of gloom and stasis extends to the mood of the opera itself which is largely bereft of any sense of light or lightness suggested by its billing as a "dramma giocosa".
What this denotes is that, like Così, the opera mixes serious and comic action. More particularly it includes a final comic scene. There is little sense here of levity that was very successfully realised in a production I saw two years ago at the Estates Theatre in Prague where Mozart himself had conducted the premiere.
But if the staging itself seems workmanlike, the production scores on the whole with the quality of the vocal performances. Best of all is David Soar as Leporello, the Don's much put-upon manservant who is forced to endure hunger, humiliation, beatings and even threats to his life. He is charismatic enough to play the Don himself. As the great libertine, David Kempster sings securely enough but has yet to fully invest the role with the requisite swagger.
The tenor Robin Tritschler as Ottavio, some initial wobbles in the aria 'Dalla sua pace' aside, was impressive, as was Camilla Roberts as Donna Anna who drew some of the loudest cheers from the Cardiff audience which clearly enjoyed the production, albeit one that produced longeurs in the second half.
The cleanest pair of heels was displayed by Lothar Koenigs in the pit with the WNO orchestra responding with alacrity and aplomb.
Reviewer: Pete Wood