Falstaff
Giuseppe Verdi
Welsh National Opera
Birmingham Hippodrome and touring
(2008)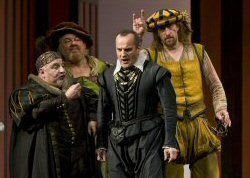 In Shakespeare's Henry IV Part I, Falstaff remarked that not only was he witty in himself, he was also the cause of wit in others. Falstaff, which is in part based on Henry IV and chiefly on The Merry Wives of Windsor, is testament to the truth of his observation. Written when Verdi was nearly 80, the work is a triumphant riposte to Rossini who thought his rival too serious to be able to create a successful comedy. In fact the work was an immediate popular and critical success and has been a staple favourite in the repertoire ever since.
The role is a staple too in the repertoire of Bryn Terfel who sings the title role, but it is the first time that he has reprised his much-acclaimed performance for the WNO. The good news for those who have not yet caught Falstaff in Cardiff or Birmingham is that Terfel will not, as planned, step down after 20th March due to the indisposition, because of ill-health, of Roberto de Candia.
But although for many Terfel will be the chief reason to see the production, it is by no means a one-man show. The supporting cast are uniformly excellent and the direction by Peter Stein is terrific. What struck me strongly was how well the cast respond to one another. So often one sees singers in operas performing their roles in isolation as it were. Not here. The action and reaction of the ensemble is first-rate, as indeed it needs to be, for the comedy to work.
The design, by Lucio Fanti, is traditional, but the production is characterised by a sense of freshness and vigour belying its age: it premiered 20 years ago.
So often adaptations, whether of books or plays, fall short of the originals, but here, there seems to be a significant improvement. One sensed all to clearly in Simon Callow's performance in the RSC's recent production of The Merry Wives of Windsor - The Musical a thin man, inside all the padding, wildly signalling to be let out. In contrast, Terfel inhabits the role of Falstaff, one of all literature's greatest characters, with consummate ease and negotiates the score similarly, switching from basso profundo to tenor sweetness effortlessly.
Elsewhere, Christopher Purves is a notably neurotic Ford, Janice Watson a mellifluous Alice Ford; Rhys Meirion, a lyrical Fenton, Claire Omshaw, a charmingly sprightly Nanetta and Neil Jenkins and Julian Close are suitably scabrous as Bardolph and Pistol. There is fine support too from Anthony Mee as Dr Caius and Ann-Marie Owens as Mistress Quickly. The orchestra, under the baton of Carlo Rizzi, afford finely nuanced and assured accompaniment.
The final scene, in which Falstaff is humiliated for a second and final time before a throng, ends with a joyous and entirely Falstaffian assertion of life:
All the world's a joke.
Man is born a jester,
Inside his brain his reason always wavers.
All men are tricked
Everyone laughs at everyone else.
But who laughs last, laughs best!
Touring to Llandudno (18th & 20th March), Southampton (27th March), Milton Keynes (3rd April), Bristol (10th April), Plymouth (17th April) and Swansea (24th April).
Kevin Catchpole reviewed this production at the Mayflower, Southampton
Reviewer: Pete Wood