The Queen of Spades
Pyotr Ilyich Tchaikovsky
Welsh National Opera
Wales Millennium Centre, Cardiff
(2009)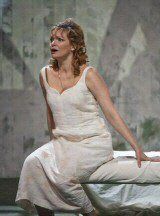 This production was afforded a right royal welcome when it premiered at the New Theatre, Cardiff, back in 2000. And, despite its running time of three and three quarter hours, half an hour longer than advertised, it is indeed a cracker.
Written late in his career when Tchaikovsky was at the peak of his creativity, the opera, based on a novel by Pushkin, was an intensely personal project for the composer who was experiencing considerable distress in his personal life.
The tone of the opera is dark, far more so than Eugene Onegin, even though it initially also centres on someone falling in love. What The Queen of Spades is really about is obsession and fate, both very much on Tchaikovsky's mind.
Herman, the chief protagonist, has fallen in love with Lisa, the ward of the Countess. His ardour wins her over, despite her betrothal to another, and she commits herself to him. But Herman's obsessive nature now fixates on his lack of money and he decides to force the Countess to tell him the secret of her former success at gambling and to use that knowledge to win a fortune.
The original director, Richard Jones, has won many accolades for his work and the production bears the stamp of his striking visual flair and sense of design. With designer John Macfarlane, Jones accentuates the sense of deprivation and drabness of the country which is here updated to the 1900s.
Dark colours predominate. The second set features a distressed interior à la Katie Mitchell, and the sense is of better times having passed, a theme echoed in a number of the arias as when Polina's sings, 'in Arcadia'. "In the morning of my life what was to be my future was the grave", a lament later picked up by Lisa herself. Even the crowd, in the first scene, who bustle about enjoying the spring weather, chorus, "Have fun my dears, the sun does not shine often".
There are a number of arresting visuals. At the beginning of the production, the curtain rises to reveal the image of an attractive young woman. Then another unfurls over it showing the same person, now old and desiccated - youth, beauty and hope all yield to time. We fleeth, as it were, as a shadow.
In another scene we look down, as it were, on the bed in Herman's bedroom which has been raised to the vertical. As we watch him toss and turn we see the sheets move and a skeletal figure emerge and take him in its embrace.
The work reveals the full brilliance of Tchaikovsky's compositional skills with the score ranging from elegant ballroom music; ersatz folk tunes; lyrical arias and music which for me recalled Janacek and the equally obsessional Jenufa.
The principals are excellent, as are the chorus, with special mention to Misha Didyk, as Herman; Tatia Monogarova as Lisa; Dario Solari as Prince Yeletsky and Ann Murray as the Countess. The conductor is Alexander Polianichko.
Reviewer: Pete Wood