La Traviata
Giuseppe Verdi
Welsh National Opera
Bristol Hippodrome
(2009)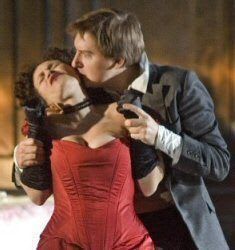 David McVicar's La Traviata set the seal of what has been another year of achievement for the WNO. The year began with a fine adaptation of The Marriage of Figaro, starring Rebecca Evans, albeit one which divided critics.
The production of Verdi's masterpiece which, with Wozzeck, closed out the year, is a revival of an adaptation by David McVicar for Scottish Opera, albeit with an entirely different cast. Although he has a reputation as a maverick, the staging is conventional enough, the only significant change being the updating of the action from Paris in the mid-nineteenth century to a fin de siècle capital.
The setting and costumes - designed by Tanya McCallum and dimly lit by Jennifer Tipton - are austerely sumptuous: black drapes and white camellias, smoked glass and chandeliers with the cast as a whole clad mainly in black.
As the action opens, Violetta Valery, a celebrated courtesan, is holding a party to mark her recovery from an attack of consumption, prematurely, as it turns out. At the end of the evening the shy young Alredo Germont, comes forward and confesses he has loved her from afar. By morning she is in love.
However, her happiness proves short lived as she is forced to choose between her own happiness and the reputation of the Germont family name.
Dario Solari is in fine voice as Germont; Alfie Boe as Alfredo neatly charts the transition from awkward ingénue to passionate lover and Katia Pellegrino, replacing Myrto Papatanasiu, is a splendid, moving Violetta. There is fine support from David Soar (Dr Grenvil) and from Louise Poole (Flora) and excellent work by the chorus and orchestra under the baton of Andrea Licata.
Reviewer: Pete Wood