Cinderella
A pantomime by Joanna Read and Stuart Thomas
Palace Theatre, Watford
(2009)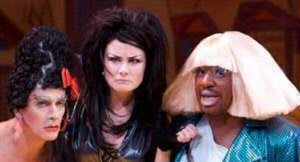 Come rain, come weather, come lack of on-street parking; but an impressively large body of eager Watford panto-goers turned out in force on a damp Tuesday evening to celebrate the first day of Yuletide in the bar, and to laugh, cheer and applaud this freshly informal but handsomely costumed take on Cinderella.
The fashion audacity of director Kate Saxon and her designer Cleo Pettitt became apparent when Laura Doddington's demure Fairy Godmother made her first entrance in a Dior-styled gardener's cape reaching down to the floor.
But this was swiftly shed to reveal pink Jimmy Choo high platforms, saucily suspendered white silk stockings, topped by a blonde wig and Elizabethan bodice and bloomers. No wonder she got wolf whistles at every entrance.
There were similarly dazzling outfits for Peter Holdway's La Cage-style Ugly Sister coupled with Donovan F Blackwood's sumptuously gowned sibling, not to mention Agent Provocateur black basque and stockings for Michele Moran's dominatrix Wicked Stepmother, complete with fright hairdo.
Seeing the name of Stuart Thomas on the by-line made me hope this could be his outrageous version for the Dundee Rep in which Cinders spurns the Prince Charming in favour of her fellow kitchen lackey. But not so. This is one of his traditional scripts which he co-wrote with Joanna Read for the Salisbury Playhouse but minus Cinders' loving Dad, Baron Hardup, either in favour of more compact storytelling or casting economies.
Otherwise everything you need to see in a Christmas pantomime is here, including a delightfully engaging Buttons, so well-educated that he does the audience warm-up in junior school French and despatches the singalong with swift aplomb, handing out Waitrose Christmas pressies to the kids going up on stage as a gesture to one of this year's Watford sponsors.
There is also a fine bedroom Ghost Scene for the Ugly Sisters with not just one but five ghosts, the last actually discovered lurking in their double bed. But their omelette cooking kitchen scene is more messy than comic — I felt for the wardrobe mistress who must get their togs in shape for the next performance.
In many ways the principals are slightly overwhelmed by the more raucous characterisations including a swift and almost unexplained role-swap between Eugene McCoy's Dandini and Daniel Norford as Prince Charming confusingly set on the cow-catcher of the Princely locomotive throne.
Meanwhile Bethan Walker's Welsh chirpy Cinderella gets a dowdy 1940s housewife outfit that does nothing to help her project hidden nobility while under the thumb of her cruel stepmother. But in the second and brighter better half she reveals a really nifty talent for song and dance, while Norford's Prince, a youthful light tenor with an ear for melody and phrasing, comes up trumps with several contemporary standards.
Both are also strongly projected in solo and chorus for the final, much applauded walk-down, including this year's hit revival of "Have Yourself a Merry, Merry Christmas", a melody that had me singing and skipping as I went off in the night to search for my car in a Watford back street!
Reviewer: John Thaxter