West Side Story
Concept by Jerome Robbins, book by Arthur Laurents, music by Leonard Bernstein, lyrics by Stephen Sondheim
The Lowry, Salford
(2008)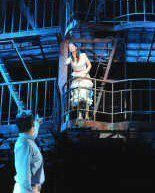 The fiftieth anniversary production of one of the most significant pieces of musical theatre of the twentieth century, West Side Story, visits the Lowry in Salford this week and shows that it still has the power to draw large crowds of young people to see it alongside the usual musical theatre fans.
On the face of it, this continued appeal to the young may seem strange as there are many elements that a lot of people may think would turn young people off, such as a score more allied to jazz and modern classical music than pop or rock, large sections of abstract ballet-style storytelling rather than film or TV naturalism and a story based on Shakespeare. However there are issues in the story that are very recognisable to anyone who has occasionally glanced at current newspaper headlines: knife crime, violent conflict between groups of young people, conflict between residents of a country and recent immigrant populations, conflict and lack of understanding (in both directions) between different generations and several other big themes. These were all burning issues in America of the 1950s and in Shakespeare's London of the 1590s when Romeo and Juliet was written and are still very relevant today.
The major points of the story are based very closely on Romeo and Juliet. The show begins with a portrayal in dance of the constant, violent conflict between American teenagers, 'The Jets', and young Puerto Rican immigrants, 'The Sharks', broken up by Lieutenant Schrank and his sidekick Officer Krupke. Rather than the benevolent voice of law enforcement, Schrank is a nasty racist who despises the Puerto Ricans more than any of the Jets but has to try to reduce the level of violence on the streets. At a dance organised to try to bring the warring sides together, Jet Tony, who is already having doubts about his participation in the gangs, falls for recent Puerto Rican immigrant Maria, but when they are caught together by Maria's brother Bernardo a whole new phase of conflict is sparked off that is sure to end badly.
The show is a curious mix of musical and ballet that still looks radical and different from anything else in musical theatre fifty years on. Like most radical art, some parts of it work better than others. Some scenes are very powerful for their emotion, humour or social comment, but others are not at all convincing and seem like a sloppy way of forcing in a bit of plot. The score is very distinctive and rises to some wonderful heights such as the act one would-be finale of 'Tonight' when the whole company comes together singing different things at the same time, but then its impact is reduced by it being followed by another scene. The young Sondheim's lyrics are universally wonderful, with superb humour in songs like 'Gee, Officer Krupke' and 'America' and the sheer joy of 'Maria' and 'Tonight'.
There are some very good performances in this company. It was announced at the beginning that the part of Anita, made famous by the great Chita Rivera, would be played by understudy Celia Mei Rubin, which is usually a cause for disappointment. However Rubin's performance was certainly one of the biggest highlights of the show that made her character the emotional heart of the production. Daniel Koek as Tony has a great singing voice but looks so much older and more middle class than the rest of the Jets that it is difficult to believe he would ever have fitted in with them. Sofia Escobar is quite charming as Maria, Howard Jones gives a very strong and natural performance as Riff and Dan Burton is all Latin anger as Bernardo. Ged Simmons is superbly smug and hateful as Schrank, while Michael Bell as Doc is the opposite, shaking his head sadly as he predicts the violence to come that he can't stop because he is an adult and therefore 'doesn't understand'.
Designer Paul Gallis puts the action between two movable sets of rusting metal balconies with fire escape drop ladders with various backdrops of black and white street scene photographs. Renate Schmitzer's costumes put the Jets in tight tee shirts and jeans and the Sharks in smart, colourful suits.
There is no doubt that this is a far-from-perfect production of a flawed show. However it is also a very watchable and entertaining production of a major milestone in musical theatre that in its best moments is absolutely wonderful and rarely bettered in the last fifty years.
At The Lowry until 11th October
Reviewer: David Chadderton