We Will Rock You
Music by Queen, book by Ben Elton
Palace Theatre, Manchester, and touring
(2009)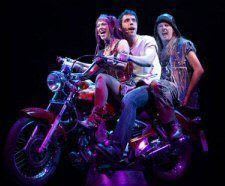 Ben Elton's bizarre futuristic satire about manufactured pop music and Internet culture woven around the songs of stadium rock band Queen was ridiculed by the critics when it opened in London but has been filling the cavernous Dominion Theatre for seven years and now launches its national tour in Manchester which Elton has promised will be no less spectacular than its West End parent.
The show opens with a series of factual or amusing music-related headlines taking us from the beginnings of rock 'n' roll to a futuristic world where everyone is constantly online, all pop music is manufactured by computers and fronted by boy or girl bands and real musical instruments are banned. This mindless celebrity gossip culture and insipid dance music pop is collectively termed 'Gaga' – which, of course, leads into one of Queen's biggest clap-along hits (it's hard not to snigger at some of the lines that are such obvious lead-ins to well-known songs, e.g. "What do you want?" followed by 'I Want To Break Free'.).
This world is controlled by the international corporation Globalsoft, fronted not by a Bill Gates or Steve Jobs techy nerd-type but by the Killer Queen, a large, temperamental and dictatorial company boss who effectively rules the world by controlling what it can see, hear and buy. Into this world comes a man who doesn't know who he is but believes himself to be called Galileo Figaro and keeps getting flashes of words in his head that turn out to be fragments of ancient rock music lyrics.
He pairs up with a girl regarded as a 'freak' by the other young girls because she doesn't dress like they do or like the same music and boys whom he names Scaramouche. They hook up with an underground organisation that worships the ideas of rock music – even though none of it still survives and they don't quite get it all right – in their underground hideout called The Heartbreak Hotel. However Killer Queen's chief policeman Khashoggi discovers their hideout and brainwashes them all, apart from Galileo and Scaramouche who escape to try to resurrect rock music from the ruins of Wembley Stadium and save the world.
The story is thin and not particularly original but it works fine for a show that is really just an excuse for a string of Queen hits, although there are moments where the plot drops out completely for a while. But this is a rock concert with rock concert lighting that swings through the audience in several places attached to rock concert trussing and a very loud rock concert sound that is of a much better quality than the sound achieved by most shows that tour to The Palace, although there are some parts that are harsh or muddy. The songs are not really 'musical-theatre-ised' apart from some small lyric changes and are belted out by some superb rock voices.
Like any futuristic sci-fi story, the plot and themes are more about the time it was written than the future, and so Elton's script jokes about the online world (such as 'poking' people on Facebook), celebrity gossip culture, pop music and more from today's world. However this is more in the nature of humorous digs than biting satire and much of it is quite obvious. Some of the humour is very funny and works well, but then there are the obvious innuendoes of the type that might be funny when you're joking around in the pub with your mates but look rather cheap onstage, and some gags are so old or obvious that you could sing along with them as easily as you can the songs.
As the self-obsessed, mystical lead Galileo, Canadian Alex Gaumond gives a superb performance and even gives a finale performance that may not be Freddie Mercury but is still pretty good. Supporting him as Scaramouche is Sarah French-Ellis, who has a beautifully rich rock voice and great comic delivery, particularly of the numerous put-downs which most of her dialogue consists of. Brenda Edwards has a huge stage presence and a voice to match as Killer Queen, and Jonathan Wilkes gives very strong support as her assistant Khashoggi.
While there's nothing innovative about the show – the story borrows elements from many sci fi plots, the songs are all old ones and mostly well-known and so are many of the jokes – but it is spectacular, loud and has some well-sung and very well-arranged and -played rock songs and everything is performed with pace and gusto. It certainly has its lulls when the plot drifts off for a bit, including a large part of the second act, and some things just don't make sense, such as complaining about guitar-based rock music using guitar-based rock songs, but it had a full audience on its feet and singing by the end, including a very large proportion who wouldn't even have been born when Freddie died.
Playing until 6th June, then touring to Sunderland, Birmingham, Bristol and Edinburgh
Peter Lathan reviewed the production in Sunderland
Reviewer: David Chadderton