Bedroom Farce
Alan Ayckbourn
West Yorkshire Playhouse, Leeds
(2009)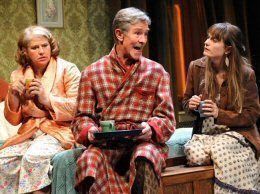 After the opening glory days of the old Leeds Playhouse, when some walked out in disgust at Plater and Glasgow's wonderful Close the Coalhouse Door as the singer sang, if I remember correctly; 'I'll show you my tits for a packet of maltezers ', anyway, after that and some other great shows, the place hit the doldrums. I started to buy scripts instead of tickets. But one show I went to see - Bedroom Farce. It put me off Ayckbourn for nearly three decades, until I read his superb book on the art and craft of playwrighting.
So I went to the 'new' West Yorkshire Playhouse to give the play and playwright another chance. Both passed with flying colours. What a brilliantly crafted script, chock-a-block with fine observation and great one liners. Why couldn't I see through that superficial production thirty years ago?
Sadly this new Playhouse production suffers from exactly the same stage complaint as the first one - well observed, believably flawed characters are made into comic stereotypes. Result: I do not feel for them, I do not care for them, I neither sympathise nor empathise with them. Result:- the production is a bag of cheap laughs.
Luckily for WYP most of the audience do like a cheap laugh. Which is worrying to me. I love our local theatre, and no-one is more pleased than I am to see it selling out so frequently. But not, please not, by taking a classic, which should be painfully funny, and making it into theatrical junk food. Why not create an intelligent production which would stretch those on stage and off? The actors are not to blame: I'm sure they would have all done wonders in an adult production. Anthony Lamble's set is very pleasing to the eye and functional. And, if the wardrobe is just a little bit over tweaked (the play is set in 'the decade that style forgot'), at least we didn't have big shoes and false red noses.
Blame the director. Astonishingly, Tamara Harvey has worked alongside Ayckbourn - did he offend her, I wonder?
This play (what do couples get up to in the bedroom? exactly how destructive can the good intentions of one man prove to be? etc) has a lot to say about the human condition: it deserves better than this Benny Hill treatment.
To 4th July 2009
Reviewer: Ray Brown