The Secret Garden
Adapted by Gary Lyons from the novel by Francis Hodgson Burnett, music and lyrics by Gary Lyons and Tim Sutton
West Yorkshire Playhouse
(2009)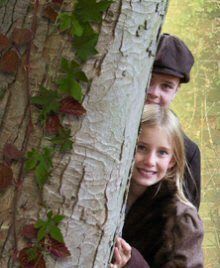 This is a near perfect choice for the Playhouse Christmas show audience: a musical with stereotyped rude mechanicals and a dysfunctional wealthy family... set in Yorkshire! Sounds like a comedy, I know, but it isn't.
Mary Lennox loses both parents (vide Wilde: Importance of Being...) to cholera in India and is brought to the wild moors where the wind wuthers and a soon-to-be-discovered sickly cousin wails in the night. Her emotionally stunted widowed Uncle Archibald has no time for her. Nor does emotionally stunted (but in a warm, earthy sort of way) Ben Weatherstaff, the oldest of several gardeners. (Comedy? No it isn't!)
Mary is a rude, spiteful and seriously disturbed ten years old. Happily, a healthy serving wench (Martha Sowerby, nicely played by Savannah Stevenson) and her young brother Dickon (wild child of the moor lands who plays a whistle and can talk to animals) soon release the goodness in Mary's heart and bring the colour to her cheeks.
Mary, in turn, cures the sickly coz, Colin, of his neglect-induced psychosomatic illnesses. Sadly he remains swathed in a prematurely assumed mantel of near psychotic interpersonal arrogance (which he obviously got from his dad; he'd have been a nice little boy if his sweet mother had survived an accident on the flower strewn swing). Very predictably, Mary, Colin and Dickon bring warmth and love to Mizzlethwaite. Colin's dead mum (who, stunningly lit, frequently hovers in the background) sees her secret garden flourish once more. Forget Tennessee Williams, it's not a psychosexual epic either... although I'm not sure about that, the adult/child relationships are a touch brittle, foetid and obscure. Adds depth.
Needless to say, we are given every reason to believe that they will all live happily ever after: the rich man in his castle, the poor man at the gate.
What saves this melodramatic Victoriana from a well deserved long rest in the trash can is some brilliant writing by Gary Lyons, tremendous acting by Jayne Wisener and a very stylish production.
Adapting novels for the stage is a fraught pastime, and Lyons succumbs to the temptation to fill in chunks of the story by means of a chorus of the less fortunate characters. A little editing here would show greater respect for the audience. Where he flies is in his handling of the kids, in particular the exchanges between Mary and Colin. It is beautifully observed dialogue which captures kids' talk and raises the quality of the play. There is of course the usual Christmas embarrassment of seeing adult actors 'doing' children. But here we are treated to a stunning performance by Jayne Wisener who is believable and does capture the essence of a ten year old girl.
The production as a whole is excellent, only dipping when it comes to 'Yorkshire' accents - there is a grammar to Yorkshire dialect and intricate consistencies to its pronunciation, but no one told the dialect coach! A bit iffy on the horticultural front as well: no attempt whatsoever to match the prop plants to the dialogue!
But who cares? The set and lighting create a sombre masterpiece, the acting is first class, and Ian Brown's direction leaves little to be desired. And on top of that we have a live seven piece orchestra plus original music and lyrics which, with the excellent script, we might very well see this show gracing the West End. So, you can see it here first!
Running until 23rd January 2010
Reviewer: Ray Brown