'Tis Pity She's a Whore
John Ford
West Yorkshire Playhouse, Leeds
(2011)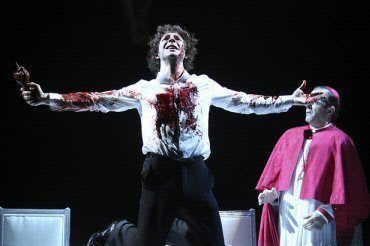 Here's a blood and thunder cocktail that powers its way through the evening. Incest, deceit, corruption and a very high wardrobe bill for all those blood soaked dress shirts. 'Tis Pity She's a Whore is as shocking now as it must have been four hundred years ago. So, expect heart stopping moments on stage and in the auditorium.
If you don't know the story, then don't read Professor Lisa Hopkins' spoiler contribution to the programme until you've seen the show. And I will I will say no more than this: Giovanni loves his sister Annabella and it is mutual and passionate. She rejects other suitors, finally accepts one... and, oh, it all turns out a bloody mess. Revenge is gory!
Munby has located the piece in 1960s Rome, which unfortunately allows him to have one suitor, comic relief Bergetto, buzzing around the stage on a scooter. Michael Matus' Bergetto, probably at Munby's suggestion, is a splotch of colour and Jerry Lewis/Pink Panther comedy in an otherwise sombre production. For me this was crass, a bloomer: there is nothing less funny than someone pleading for laughter.
No chance of that elsewhere however. Tension draws on tension and the tragedy unfolds with horrific unpredictability. Just when you think it can't get any worse.....
And when scenes worked they worked beautifully. None more so than Annabella's marriage to Soranzo who has spurned the widow Hippolita who (which clown organised this gig?) makes her contribution in song. Sally Dexter's rendition of Anyone who had a Heart is, for me, not only the highlight of the whole production, but also a superb performance in its own right. Add the multiple understandings and the appropriateness of the words to the situation and - Pow! Brilliant theatre. Her gift to Soranzo? The return of his vows! No wonder she is dead within minutes.
The set is massive, impressive, and sombre, one location dominated by a larger than life image of Christ on the cross (possibly taken from a painting by Goya). Lighting and sound are excellent, though a little Mediterranean sunshine wouldn't have gone amiss.
All in all a show worth seeing.
Running to 28th May
Reviewer: Ray Brown