King Lear
William Shakespeare, adapted and directed by David Tse Ka-shing
Yellow Earth Theatre Company and the Shanghai Dramatic Arts Centre
Yvonne Arnaud, Guildford, and touring
(2006)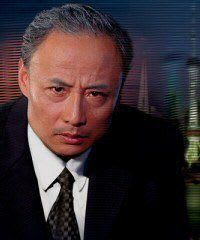 Beware, folks, the Chinese are taking over the world! They already make our clothes and manufacture all our technical equipment, and now they have Shanghaied Shakespeare's King Lear. Presented in both English and Mandarin, with subtitles for both being shown on a video screen, the text constantly changes between the two, sometimes mid-sentence, which certainly challenges the audience to keep up but I found it very distracting never knowing whether to watch the action on stage or to keep track of the translation on screen. Chinese audiences must have the same problem in reverse.
Set in the future (2020 to be exact) China is now the leading superpower (you see what I mean) and director David Tse.Ka-shing is pointing out the relevance of the play in today's multicultural world, beginning in Shanghai where, in the penthouse offices of a multinational corporation, the ageing Lear has decided to hand over the reins of his company to his three daughters, division of assets to be decided on by the amount of love each one professes for their parent. Daughters Goneril and Regan are present and effusive in their declarations of love but Cordelia (behind a transparent screen) is conversing on a video link from London and, being English educated and no longer proficient in Mandarin, has no words to express her true feelings. Even with all our technological expertise true communication is open to misunderstandings and, as the director points out, these also occurred in the original play even when everyone spoke the same language.
Chinese actor and film star Zhou Yemang is a Lear superior and confident in control of his company, but descending into bewilderment and madness - no surprise after the treatment meted out to him by his ungrateful and cruel offspring, His Confucian beliefs are being questioned and his 'enlightenment' takes place in a violent storm relating to Taoism and the forces of nature, while his journey suggests the Buddhist belief that all life is a struggle.
The Fool in the play is here replaced by a white cloaked Ensemble chanting in rhythm, and taking the place of Lear's conscience as he considers his life. This powerful production is performed with some very dramatic sound and lighting effects and the 'aerialists' appear as writhing naked bodies hung upside down and serving to illustrate not only the raging of a storm, but also souls in torment as well they might be with all the dark and dastardly deeds committed by almost everyone in this play.
Sharp-suited Zhang Lu as Goneril is as cold and calculating as you would expect, showing no remorse for the predicament of her frail father as she seizes his cane, a symbol of power, and struts her way to control as the head of the company, shared by sister Regan (Xie Li), a lady who also has a cruel sadistic streak as she directs the putting out of 'traitor' Gloucester's eyes (thankfully out of sight of the audience).
David Yip is honest and trusting as the unfortunate Gloucester, also doubling as husband Albany, and Nina Kwok's Cordelia also doubles as a nonchalantly swaggering female Oswald.
With half the cast Chinese and the other half British there must have been some particularly difficult moments in rehearsals, but the eight strong cast blend perfectly in this powerful and dramatic production.
Touring to Wolverhampton, Liverpool and London.
Reviewer: Sheila Connor