A Brimful of Asha
Ravi Jain and Asha Jain
Why Not Theatre presented by the Tricycle Theatre and Richard Jordan Productions
Tricycle Theatre
–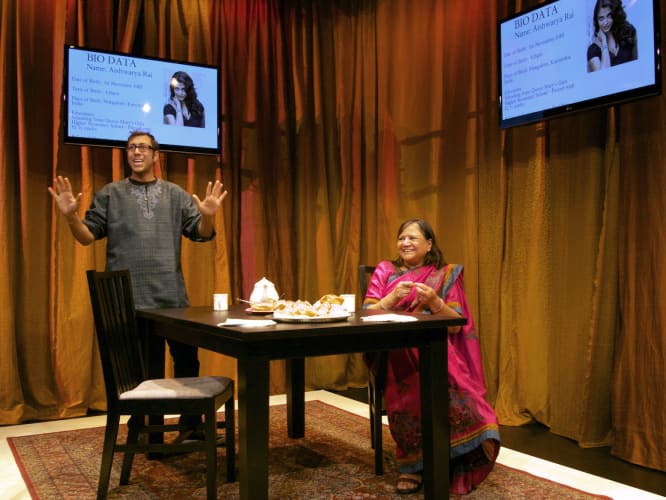 An Indian mother wanting to get her son married. It's hardly an original plot line. The difference is that this isn't fiction but a kind of real-time autobiography.
Canadian Ravi Jain is the son of a Toronto businessmen and his mom and dad would like to see him join the family firm, find a wife, raise some children. Only then will his mom feel she has fulfilled her role as a parent and be able at last to turn from family affairs to achieving the ambitions she had as a young woman.
This is their story and it is they who tell it. Not just actor Ravi but his mother too, the real Asha, taking to the stage for the first time in this play, although after playing dates across North America this London appearance isn't her debut.
Asha (her name means Hope in Hindi) describes herself as "a dedicated housewife and an abused mother" and tells the audience that they are not here for a play but to help in the dispute that she, as an Indian, is having with her Canadian son. It is a wonderful ninety-minute battle of accusation, counterclaim and contradiction that is hilarious.
Back in 2007, after leaving drama school Ravi hoped to avoid marriage and take a couple of years to establish his own theatre company but that same year was invited to do some theatre workshops in India.
Things started going wrong when his father, on his annual visit to India, says he has met someone from the National School of Drama in Delhi and there is interest in him giving workshops there. They want to see his CV: please send it.
But when his father comes back, there is no mention of workshops in Delhi. Instead he produces the biodata of a girl in Bombay.
Biodata? That's an elaborate CV including photo and all kinds of personal and family details that has become a standard tool in the Indian matchmaking process: a bit like a Facebook profile only much more of it.
Ravi plans to make the workshops part of a tour around India accompanied by his friend Andrew. He planned to make the trip with Andrew and backpack all over India. Then his parents announce they are going too.
An ongoing campaign to set him up with a bride involves him with a whole host of relations on both sides in Delhi, Mumbai, and Jaipur: there seems no escape.
Ravi tells his side of the story while Asha interposes her version and the result is so warm-heartedly funny that laugh follows laugh. Ravi Jain has a lively charisma; you can't help but be on his side against his manipulative parent, but his mother has such a sharp sense of humour and such a wicked smirk when she marks up what she thinks is a winning point that you love her too.
Like the uncles and aunties, grandfathers and grandmothers, Ravi and his mother make you feel part of their family, welcoming everyone individually with a handshake and a hot samosa. Ravi may feel he has parents from Hell but the love between them is palpable and amid the laughter they share some of it.
Reviewer: Howard Loxton