A Child's Christmas, Poems and Tiger Eggs - Dylan Thomas
Dylan Thomas
Ballet Cymru
Lilian Baylis Studio, Sadler's Wells
–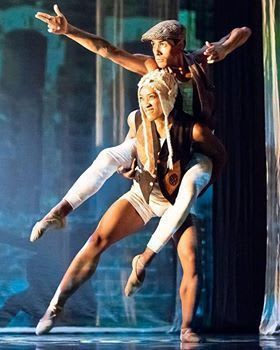 Newport-based Welsh Dance Company, Ballet Cymru returns to its London hub, the Lilian Baylis Studio at Sadler's Wells to reveal an interpretation of one of Wales's most loved 20th century poets: Dylan Thomas. Co-produced with the Riverfront Theatre, A Child's Christmas, Poems and Tiger Eggs - Dylan Thomas is a new two-part narrative to Mason Neely's original score, in collaboration with musician, author, broadcaster and Ballet Cymru patron Cerys Matthews MBE.
Founded in 1986 by Artistic Director Darius James and Administrative Director Yvonne Williams, Ballet Cymru continues to tour to mid-scale venues throughout Wales and the UK, as well as internationally to Eire and Italy. Winner of the Critics' Circle National Dance Award in 2006, the Company has a growing portfolio of successful short works and full-length co-productions. In 2014, Ballet Cymru relocated to purpose-built facilities in the Rogerstone area of Newport, South Wales and two years later realised further success in renewing "its revenue funding from Arts Council of Wales as an Arts Portfolio Wales organisation".
Collaborating with choreographers, designers, composers and musicians, Ballet Cymru brings ingenious classical ballet and dance repertoire to far-reaching audiences, as well as delivering a broad spectrum of outreach activities; including its Pre-Professional Programme, the Wales Summer Dance & Wales International Ballet Summer School, Associate Programme and Ballet Classes for Adult Beginners.
The international troupe comprise graduates of Elmhurst Ballet School (Xolisweh Richards and Isobel Holland, who joins Ballet Cymru's Pre-Professional Programme), Central School of Ballet (Beth Meadway), Northern Ballet Professional Graduate Programme (Maria Teresa Brunello) and English National Ballet School (Alex Hallas), as well as professional schools in Bermuda (Krystal Lowe), Australia (Robbie Moorcroft) and the renowned Princess Grace Academy, Monaco (Miguel Fernandes). Alongside Assistant Artistic Director Amy Doughty, Darius James leads on choreography, costumes, sets and video projection, with lighting design by Chris Illingsworth, all illuminated by Ceri Benjamin.
Part One opens to Cerys Matthews live on stage narrating an assortment of Thomas's poetry, ably accompanied by Arun Ghosh, executing the diverse musical and literary arrangement. Here, the dancers exude in technical capability and performance projection, complete with panther-like elongated lines in the adagio sections, which later morph into scaling floorwork, soaring lifts and brisk traveling jetés.
Distinct from the earlier conceptual act, Part Two is a festive storytelling number, commencing with a short film sequence by Red Beetle Films, starring students and staff from Clytha Primary School, Newport. In the character of children, technically strong Xolisweh Richards and her partner Miguel Fernandes, gesture each verse of one of Thomas's most beloved works, A Child's Christmas in Wales, a recollection of a child's Christmas chronicles, which Thomas recorded in 1952. Impersonating the younger years, the play-act choreography is full of theatricality, yet each movement is underpinned by a united classical foundation.
Reviewer: Naomi Cockshutt