A Chorus Line
Conceived, originally directed and choreographed by Michael Bennett, book by James Kirkwood and Nicholas Dante, lyrics by Edward Kleban
Curve
Curve Theatre, Leicester
–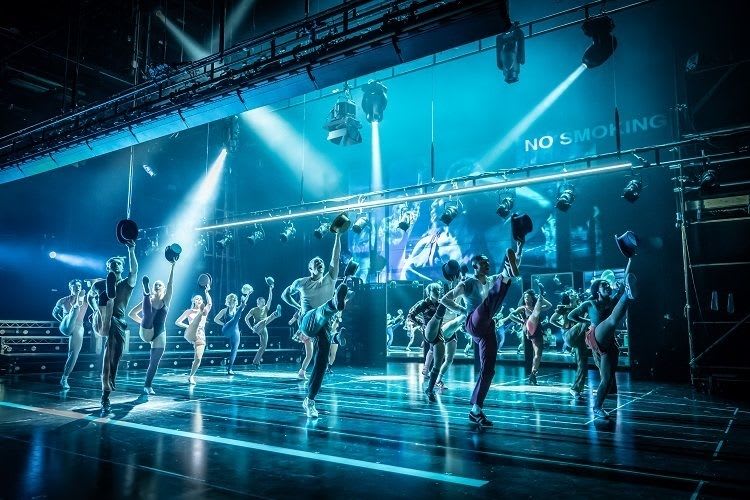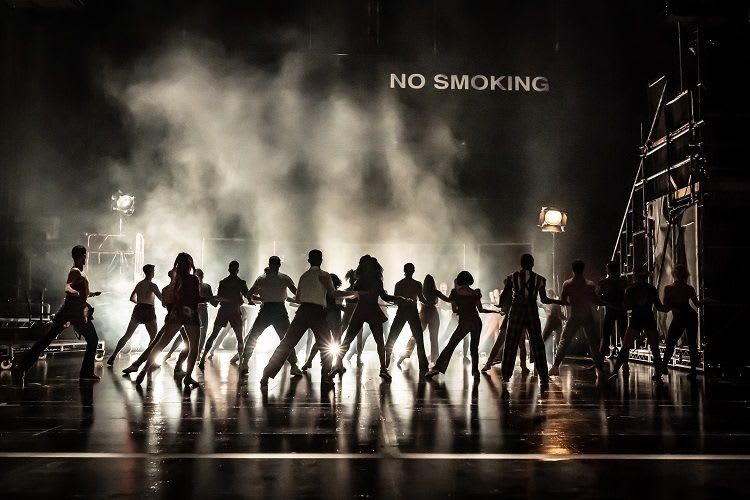 A Chorus Line, Michael Bennett's 1975 'concept' musical featuring dancers auditioning for a part in a Broadway show, seems a brave choice for Curve's first Christmas show since COVID took hold. So why this show, why now?
Aside from the top hats and high kicks of the iconic "One", I'd say the full score is not one of the more well-known musicals, with the 1985 film starring Michael Douglas perhaps more widely seen. However, director Nikolai Foster presents this production as a love song to musical theatre and all those within the sector whose careers and livelihoods were so devastatingly affected by the pandemic. And I think this works as the production—the dazzlingly talented cast, Curve's vast space and impressive lighting rigs—really gets to the emotional heart of this show, and what it takes to create musical theatre.
Grace Smart's set design has stripped the stage back to its bare walls and we're there among the dancers in the sweat and stress of an audition. Five mirrors upstage show all sides, including the audience, giving a sense of "we're all in this together" (unfortunate this is now something of a political slogan). Larry (Taylor Walker), as the Director's Assistant on stage, frequently moves among the auditioning performers with a camera which projects onto a large screen, giving further perspectives on what we see.
Adam Cooper is Zach, the director of the Broadway show, and an enigmatic force as he strides around the stage or lurks downstage left and right barking questions. He wants to find out what drives the auditionees to dance, leading to the emotion and stories which provides the show's relatability. So, it's a 'meta' musical (based as it is on interviews with dancers in 1974), but also one that looks out into the world; we don't all strive to be dancers in a Broadway show, yet we can all understand their motivations, whether that's the highs and lows of acceptance and rejection, the desire to follow your dreams, earn a living, escape a bad situation, or make your family proud.
The cast are phenomenal, as is Ellen Kane's sharp choreography, and Tamara Saringer and her live band. Chloe Saunders as Val gives a belting performance of "Dance: Ten, Looks: Three", really capturing the humour and poignancy. A great performance too by Lizzy-Rose Esin-Kelly as Diana Morales, and her storming "Nothing". Both Saunders and Esin-Kelly are impressive in their professional debuts.
Carly Mercedes Dyer is stunning in Cassie's key number, "The Music and The Mirror", and you can hear a pin drop during Ainsley Hall Ricketts's telling of Paul San Marco's story.
Kristine (Katie Lee) and Al (Joshua Lay) light up the stage during "Sing!", their energy only in danger of being dimmed by Howard Hudson's lighting design. Utilising what must be every bulb in the building, this element of the production is a character in itself, with the revolving rigs during several of the songs used to breathtaking effect, particularly "One" to bring the show to a rousing and satisfying end.
Foster has taken a chance with A Chorus Line but stuck with his heartfelt motivation to stage what seems the perfect vehicle at the right time to celebrate all that is good about theatre, and the power of performance and collaboration.
Reviewer: Sally Jack