A Christmas Carol
Charles Dickens
Royal Collection Trust and Watch Your Head
Windsor Castle State Apartments
–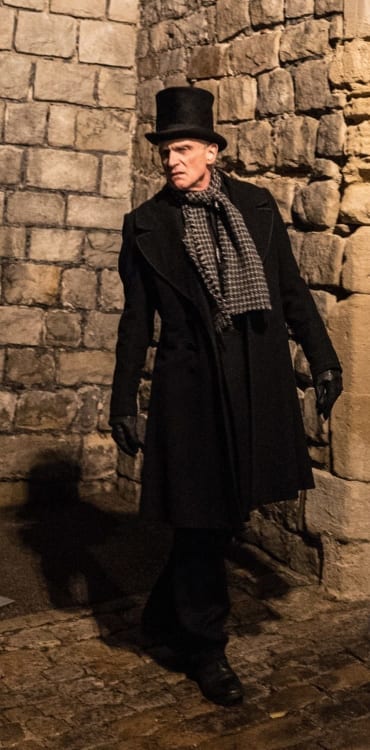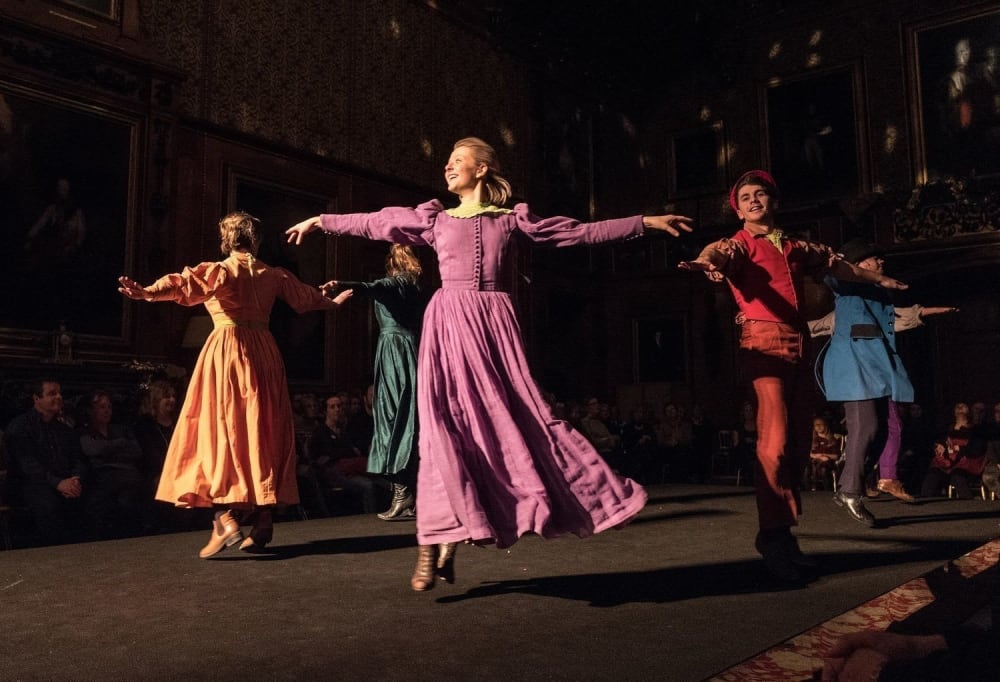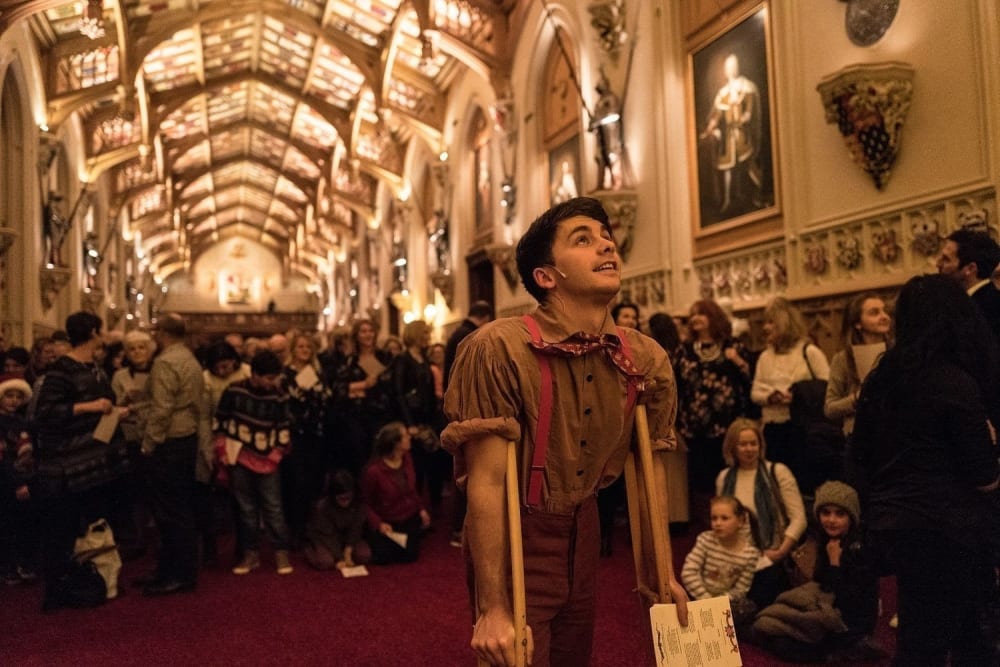 It's not the first time plays have been performed in the magnificent State Apartments of Windsor Castle, but it's the first time the public have been invited inside to enjoy a Christmas story in the place where many of our present Christmas traditions began.
Queen Victoria and Prince Albert regarded Christmas as "a dear happy time" and their Christmas tree decorated with lights and baubles started a theme which has now become the essential centre of Christmas festivities.
Watch Your Head, which specialises in immersive productions, has the action of this play taking place all around us and following Ebenezer Scrooge through the castle's darkening stony grounds immediately creates a Victorian ambiance, especially with the characters we pass along the way.
A match girl sits on the ground entreating people to buy her matches; a ragged beggar is looking for money and a cripple on crutches is helped to walk, while outside the entrance a violinist is playing Christmas carols—"In the Bleak Midwinter" reminding us that we were getting a little cold waiting outside to be let in. It was definitely worth the wait.
Not only is the castle beautifully decorated for Christmas but the Queen had thoughtfully switched the heating on. When seated around a bare rectangular black stage in the Waterloo Chamber, there is time to look around and admire before doors at the end of the room are flung open and John Kay Steel, as the spirit of Marley, strides in to announce, quite firmly, that Marley is dead, "as dead as a doornail," in case we should have any doubts on the matter. These are Dickens' words, taking from his readings, as is the rest of the play, and it may be interesting to note that the Muppet version, in their own way, sticks very closely to the original too.
Sasha McMurray directs a very fast-moving, energetic play with some very cleverly contrived choreography by Edwin Ray with the action taking place all around us mostly at very high speed and sometimes including the balconies, yet the story is beautifully and clearly told, easily overcoming the difficult acoustics of this enormous, high ceilinged space.
A suitably gaunt Edward Halsted expertly charts the journey of a cantankerous and mean Scrooge to a complete reversal of character, helped of course by the warnings from the three Christmas Spirits: Past, Present and Yet to Come. Present is the most colourful and fascinating with the cast using giant, colourful vegetables and fruit to create Marley's face. We are also part of the jolly romp which is Fezziwig's party with his nephew Fred (Oliver Hamilton) playing violin for the dancers. Scrooge had refused his invitation.
A happy snow scene is created with white sheets which then become a shroud to cover Scrooge's corpse where people are looting his house and happy to see him go. Christmas Yet to Come does not look good.
We haven't lost the message that family and friends are more important than money, but there is such a lot of fun with this production as well as some scary and thoughtful moments. The newly altruistic Scrooge wants to share the final scene as he leads us to St Georges Hall and its very impressive Christmas tree where the action continues from the balconies as Tiny Tim (Charlie Ward) receives the turkey—all finishing with Christmas carols and a very delightful evening
Reviewer: Sheila Connor