A Christmas Carol
Adapted by Michael Wicherek from the novel by Charles Dickens
Box Clever
Arts Centre Washington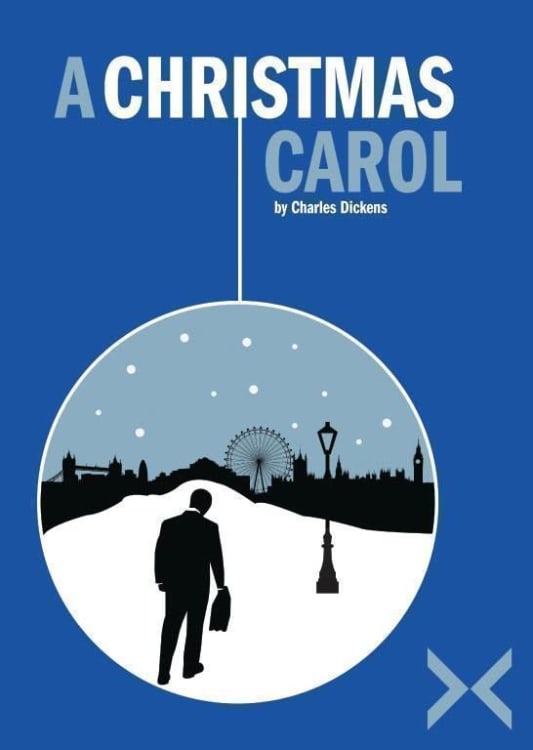 Yes, it's a great novel and has a lot to say about people's attitudes and behaviour, even today, but when I was invited to review Box Clever's production, aimed at teenagers, at Arts Centre Washington I confess that my heart sank. Not again! How many versions have there been and how many of them actually add anything to one of the iconic literary works of the 19th or any other century?
On the day, those of us who are—shall we say?—of more mature years were asked to remain outside the auditorium until the school parties were seated so by the time I was in place a couple of buskers (Charlyne Francis and Jessica Dennis) were entertaining the audience with funky, jazzy and other variations on Christmas songs and carols, along with a selection of excruciatingly bad jokes.
I began to relax: not only did this augur well for the company's approach to telling the story but I was able to add two new really bad gags to my repertoire. Then behind me there was a sudden outburst of argument and there he was, Ebenezer Scrooge, berating the buskers for trying to collect for charity. Are there no prisons? No workhouses?
And so we slip, almost unnoticed, into the story.
It's modern. There are alarm clocks, electric lamps and microwaves and Bob Cratchit is an Eastern European servant in Scrooge's household but writer Wicherek has retained much of Dickens's language and Scrooge's costume, although contemporary, has enough of the nineteenth century to give it a period feel. So essentially there is a timelessness about the production which is, of course, very telling, for it really is a case of plus ça change.
The story-telling is modern and well suited to the young audience. Whilst actor Sean Kearney plays Scrooge (at various ages), Francis and Dennis play everything else. Actually, that's not totally correct: a schoolgirl, plucked—slightly unwillingly—from the audience, played Tiny Tim and the revellers at Mr Fezziwig's party (doing the Macarena!) were three kids and two teachers.
There is, in fact, a lot of audience contact throughout which, from observation, I suspect the young people found both engaging and a little unsettling—but it certainly held their attention.
This is a clever re-imagining of the classic tale, not just for our time in general but specifically for its target audience, performed with verve, enthusiasm and skill by the three actors, helped in no small measure by Rhys Jarman's flexible set design, a timeless, grey and unfriendly house, so suited to its owner. A word of praise, too, for the very different presentation of Marley and the three Ghosts.
So I enjoyed it, in spite of my Scrooge-like thoughts beforehand. Contemporary, imaginative and clever!
Reviewer: Peter Lathan