A Christmas Carol
Charles Dickens adapted by Vincent Regan
East Riding Theatre Company
East Riding Theatre, Beverley
–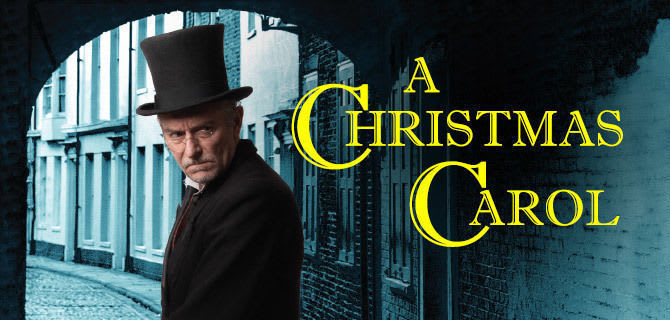 The creation of a new theatre is a huge challenge at any time but for it to have happened during the current era of what some like to refer euphemistically as 'austerity' is remarkable.
Yet somehow, through grit, determination, passion and a refusal to give up, the new East Riding Theatre in Beverley openend its doors earlier this month with a brand new adaptation of Charles Dickens's seasonal classic, A Christmas Carol.
The adaptation has been written by the theatre's Artistic Director and well-known actor, Vincent Regan. It's always good to see a full house—particularly for a new venture like this. The show has, apparently, been performing to capacity crowds—and deservedly so. It's terrific.
Though the story may be as familiar as Christmas dinner, this adaptation is virtually guaranteed to surprise from the start. Marley's corpse (Richard Avery) pre-set in its propped up coffin is an alarming first image but sets the tone for this wonderfully original, dark and imaginative adaptation.
It's every bit as good as John Mortimer's version and, personally, I hope Regan finds a publisher for it. The quality of script is matched absolutely by Mike Friend's superb direction.
With a large number of characters, any adaptation of Dickens's story inevitably relies on ensemble playing but this one has, at its core, a highly disciplined chorus who deliver some stunning individual performances as well as working cohesively as a team.
The sometimes clunky shifts that can occur between narration and dialogue in story theatre don't afflict this piece in the slightest. The chorus provide a mood of foreboding as they stalk Scrooge through the moments before the shocking arrival of Marley from the bowels of the earth. They are not so much shadows from his past but the bizarre and horrific images of his guilt-ridden nightmares.
In one of the most remarkable moments of the piece, a woman freezing to death on the street, clutching her child and ignored by Scrooge, transforms into the Ghost of Christmas Past (Hester Arden). Consequently, a role that is traditionally a figure of cool moralistic detachment becomes a haunted persecutor herself.
A wider cast of players from the community provide invaluable support and ensure that this production has a strongly regional feel. The original story might have been written for London but the company and the direction give this a distinctly northern flavour.
The set of hidden doors, shutters and trapdoors masterfully designed by Ed Ullyart provides a nightmarish landscape from which characters suddenly and unexpectedly emerge. His design was fundamental in realising the true gothic horror of Dickens's novella.
This is no gentle and knowing re-telling of a familiar tale; it's a disturbing journey of redemption. It's as if the entire team have 'parked' what they all knew and loved about the story and started with a clean page. There is a much greater 'freshness' and courageous originality about this version than ones I've seen before.
Everyone has their favourite Scrooge: Alistair Sim, Michael Caine or Patrick Stewart (mine's actually George C Scott) and Malcolm Tomlinson does not disappoint. His is a particularly bad-tempered miser which makes his eventual redemption all the more joyous. But this is a show that is characterised more by the strength of the ensemble than by individual performances—good though they are.
The live music, directed by Ben Newton, with period songs ringingly sung by the cast, is central feature of the production; Rachel Barnes's virtuous cello playing is quite simply breathtaking.
So one can only hope that this inaugural show from East Riding Theatre is a sign of productions 'yet to come' (you see what I did there?). It's a production which reflects enormous credit on the whole team but particularly on those who have fought long and hard for the theatre's existence.
Reviewer: Richard Vergette