A Christmas Carol
Dickens, Le Navet Bete, John Nicholson and Mark Laville
Le Navet Bete
Exeter Northcott Theatre
–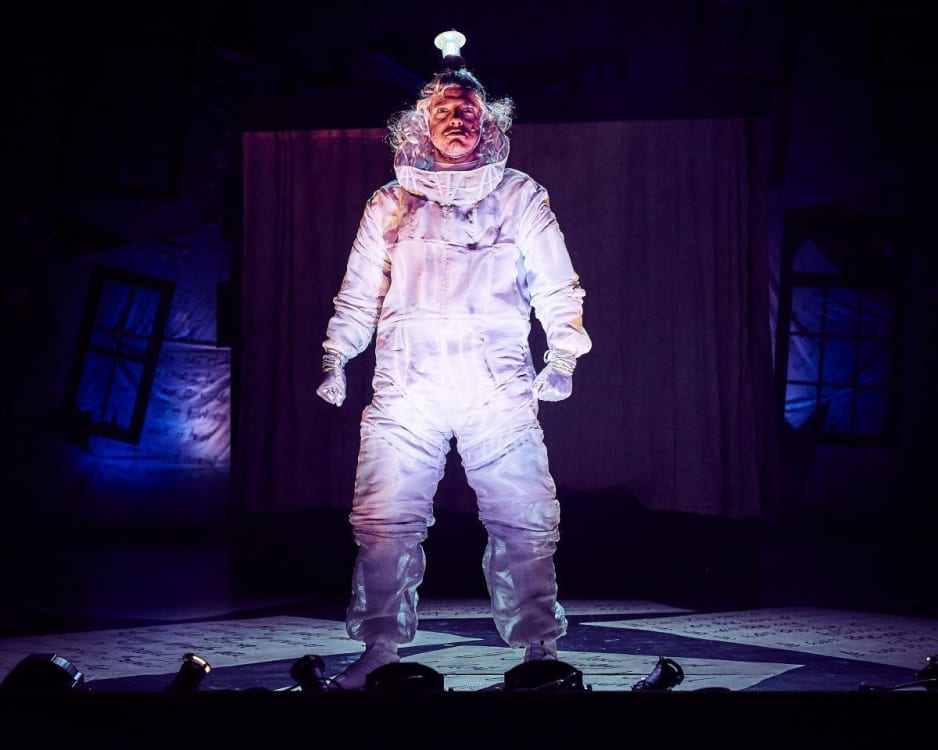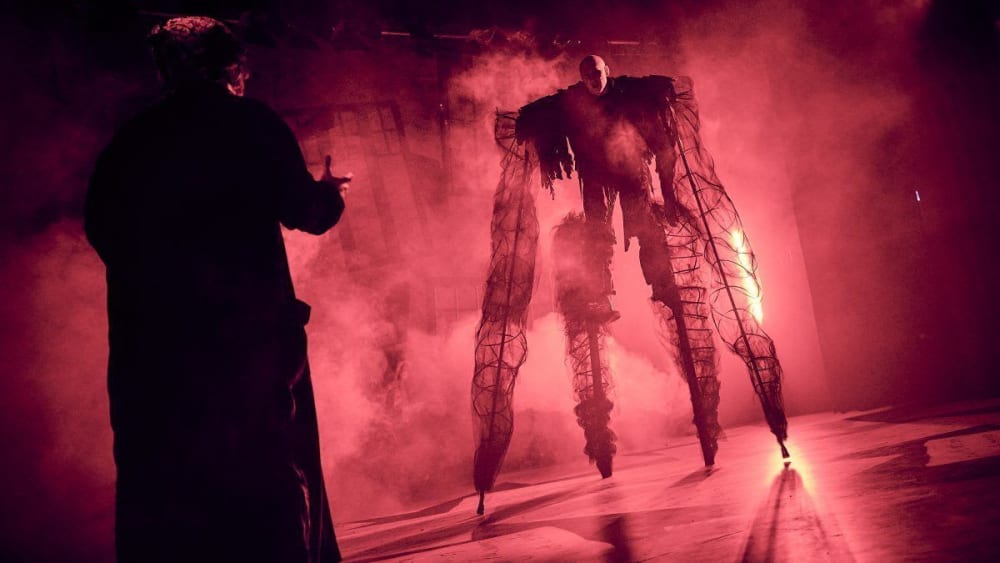 It is just not Christmas without a hefty helping of Le Navet Bete (silly turnip in translation)—and the boys are back with perennial favourite A Christmas Carol. But this is not just any A Christmas Carol, it is Le Navet Bete's A Christmas Carol so, as Dickens rotates in his grave, cue exploding plum puddings, puerile humour, slapstick, gruesome ghosts, a veritable plethora of laughs and a few tugs on the heartstrings.
Nick Bunt is the curmudgeonly miser Scrooge, sharp of tongue, mean of spirit and a crack shot with the quill pen. His callousness (and snow at the door) touches many: those collecting for charity, foppish nephew Fred, his long-suffering, overworked and underpaid clerk (Al Dunn) and more, caring not for the plight of those who find themselves unable to repay their debts through no fault of their own. It is all very melon-cauli.
Enter a gloomy, chain-ridden long-dead partner in nastiness and miserliness to herald the visitation of three ghosts who will afford Scrooge the chance to amend his bah-humbug ways.
Dunn is relentless as the Ghost of Christmas Past channelling a zany Tinky Winky resplendent with foil suit, flashing head lantern and voice changer dragging up painful scenes from bygone days of childhood, love and loss which paved Scrooge's path to all-encompassing money-worship; and his quick-change double up as Bob and Emily Cratchit chatting while preparing dinner is superb. Timing and delivery is all.
Stepping in at the last minute for Dan Bianchi this run is writer and director John Nicholson. And he fits perfectly. His wacky Ghost of Christmas Present drags Scrooge on a madcap rollercoaster sleigh ride taking in scenes around the city as Christmas is celebrated with feast or famine, goodwill or tears ending with a poignant(ish) tree swansong on jumping blades as the brown bin awaits.
Matt Freeman is the Cratchit's sickly sweet son Tim, all flailing crutches, unicycle and bonhomie delivering 'that' line with a precocious wink while his Fred is daft and foppish, and the butt of plenty of toilet humour to delight the kids. His Ghost of Christmas Yet To Come is larger than life, brooding and scary showcasing a dreary lonely future and un-mourned passing—and a solitary ownerless crutch by the Crachits' fireplace.
Add an ice-skating proposal, Fi Russell's simple but ingenious set, great clowning and physicality, a nod to ET, silly string, lighthouse, puppetry, raffled digestive biscuits and an East 17 pastiche complete with snow and white parkas and what is not to like?
As said in my review last time round: feel-good festive fun for all the family.
Reviewer: Karen Bussell