A Christmas Carol: A Ghost Story of Christmas
Michael Wilson
The Alley Theatre
Hubbard Theatre
–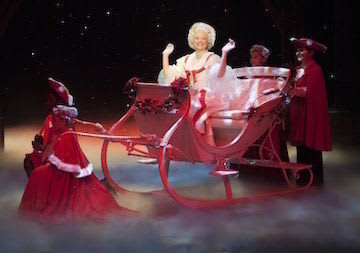 Those of you who have been reading my reviews know how much I love a Christmas show (surprisingly so, for an American!).
The Alley Theatre's A Christmas Carol: A Ghost Story of Christmas kicked my holiday season off, and in a most traditional way, though not always in a most traditional production. This production, as its subtitle indicates, really emphasises the ghosts, not only of Christmas Past, Present and Future (how could you do A Christmas Carol without those stalwart figures?) but also random denizens on the underworld, set to torment Scrooge and warn him of his fate.
In the long, long tradition of ghost stories for the Christmas season, the Alley's production was downright scary for at least one young viewer who was quite vocal about her dislike of ghosts, but told her parents how much she loved the show during the actors' curtain call. I agree with her—the whole thing was scary and I loved it.
In addition, however, the whole production is lots of fun, with regulars from the Alley's roster in full cry including audience favorites Jeffery Bean (wonderful as both the reprobate and the saved Scrooge) and John Feltch as both Scrooge's housemaid Mrs Dilber and business partner Jacob Marley. Both actors were having a marvellous time, as was the audience.
The three Christmas Ghosts (Melissa Pritchett, David Rainey and Dylan Godwin) are effective as well, with striking costumes for all by Alejo Vietti, who does a great job with the whole production. And, of course, Bob Cratchit (Chris Hutchinson) and Tiny Tim (shared by Délani K Allen and Hazel E Egging) broke our hearts, as they always do. The whole cast is committed to the work (their first time before an audience since the Alley graciously allowed me to see a preview and review it) and carry the whole thing along quickly and movingly.
However, one real star is the set, lighting and sound (Tony Straiges, Rui Rita and John Gromada, respectively). The scenic elements are amazing: the set is dominated by an enormous clock that keeps time of the events—Marley's visit and the three visitations of Christmas Past, Present and Future take place at midnight, 1AM, 2PM AND 3PM—this makes the stakes for Scrooge's salvation very apparent to the audience as time keeps moving and we both see and hear the possibility of his likely damnation as depicted in the lighting and the sound.
Of course, the only thing unfortunate about any production of A Christmas Carol and its source is the anti-Semitism of insisting that a Jew be Christianized (the names and the descriptions of both Jacob Marley and Ebenezer Scrooge make it clear that Dickens meant them to represent Jews); Scrooge's repentance that leads him to wish everyone in London a Merry Christmas then leaves many critics uncomfortable with the source.
Finally, however, I leave you with this: my friend who attended with me said that he hoped A Christmas Carol would be spooky. It was. But it was also full of humour and joy, the perfect play for Christmas.
Reviewer: Keith Dorwick