A Christmas Carol
Adapted by Deborah McAndrew from the novel by Charles Dickens
Leeds Playhouse in association with Hull Truck Theatre
Leeds Playhouse, Pop Up Theatre
–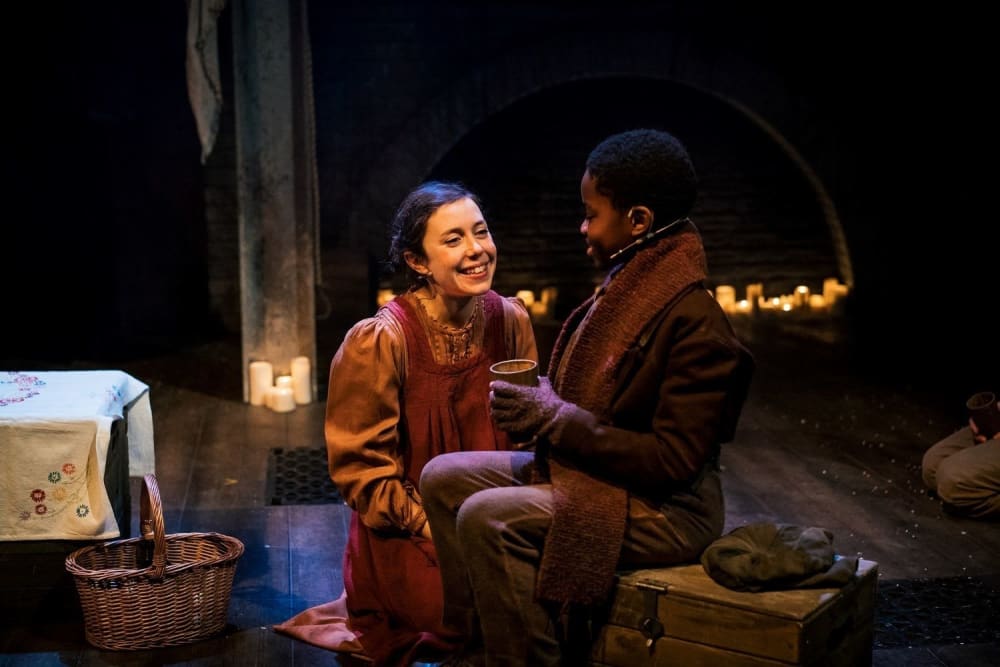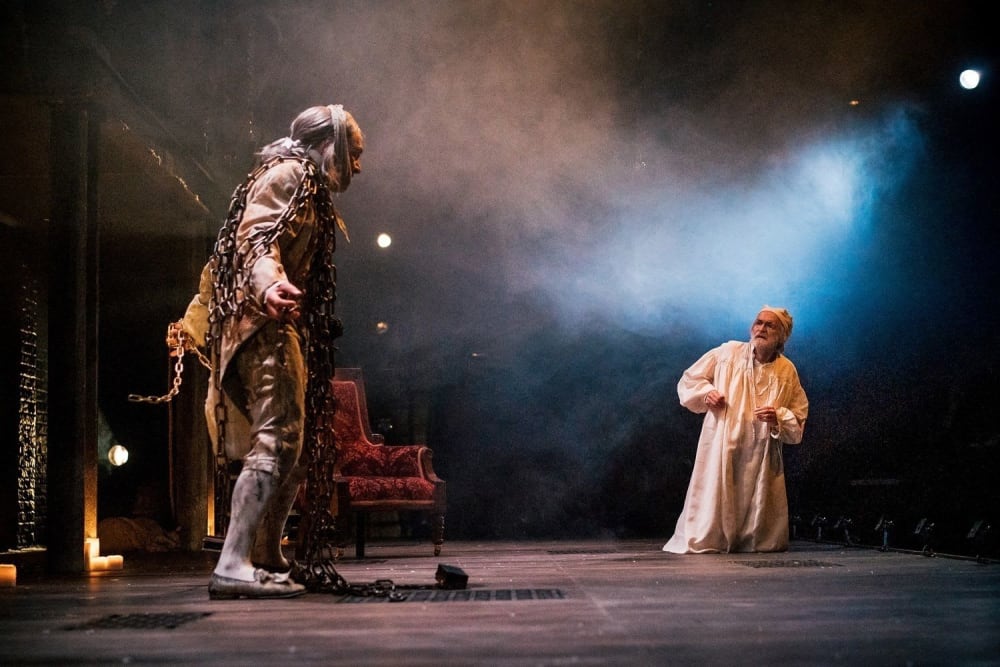 There's a surprisingly cosy warmth to the Leeds Playhouse's temporarily converted workshop as the audience enters to the brassy sounds of carols and the soothing glow of rows of flickering candles. All that is missing is the whiff of mince pies, and although it's not yet December it's hard to resist the first creepings of seasonal cheer.
Of course, the story inspiring the theatre's big Christmas production centres around the most famous of such resisters, and it's not long before we're introduced to the humbugging Robert Pickavance as Ebenezer Scrooge. First, though, a giggling, breathy chorus of ghostly figures swamps the stage, in a fine piece of theatrical invention from Amy Leach's direction.
These mischievous spirits, composed of the Playhouse's remarkably versatile ensemble cast, facilitate several moments of simple but spooky clowning throughout the show. At one point, hiding from Pickavance's slumbering Scrooge, they tease and trick him in a fine example of the magic of theatre. They're invisible and that hat-stand is haunted? Sure!
Deborah McAndrew's nippy, witty adaptation is not afraid of such lengthy silences, allowing the game-playing—and the design, of which more in a moment—tell the story. She has an ear for the best, not necessarily best-known, lines of the original and Scrooge quickly emerges as a sympathetic protagonist.
This, too, is aided by Pickavance's committed, energised and specific performance. There's even a touch of the great Leonard Rossiter to his squinting, lopsided drawl: doesn't it make sense to be cross, he brays, "when I live in such a world of fools as this?"
This production has been reworked from an earlier incarnation at Hull Truck Theatre and Hayley Grindle's set has adapted beautifully to the shallow but widescreen stage of this pop-up venue. There is simple magic here too and Josh Carr's lighting combines superbly with this gorgeous set to create shivers down the spine, as candles ebb and gutter in sync, for instance.
Not mere shivers, either: this is at times a pretty scary show. It is, after all, a ghost story. The appearance of Marley's Ghost (Joe Alessi) is one such terrifying vision and the hordes of Ghosts of Christmas Yet To Come also caused some consternation amongst the younger audience members.
Elexi Walker does a more soothing turn—though brilliantly odd and occasionally unsettling—as The Ghost of Christmas Present. The second half opens with a bit of a tonal lurch into panto, for which I, for one, wasn't ready (as I say, we're not yet into Advent). But once this segment is past, she guides us assuredly back into the narrative. Like the rest of this talented cast, she masters comedy as well as oddity, and belts out the odd song too.
The aforementioned Joe Alessi serves up excellent performances across perhaps the most varied multiple roles on display here. His Mr Fezziwig is tipsy hospitality incarnate. Darren Kuppan is splendidly earnest and moral as hard-working Bob Cratchit and unleashes the humour in a range of supporting parts. Jo Mousley is again captivating as Mrs Cratchit, her moment of anger at Scrooge superbly contrasting the kindly aura of the rest of her performance.
Dan Parr and Lladel Bryant are also varied in their range of roles; as figures in Scrooge's past and present they do a great job at warming the atmosphere in contrast to the old man's spikiness. Likewise Susan Twist as Mrs Fezziwig.
Tessa Parr provides a superbly otherworldly Ghost of Christmas Past, aided by an excellent costume. She's also one of the most gleeful and playful of the chorus of spooks. The child performer we saw, Lipalo Mokete, gives a lovely performance as the consumptive Tiny Tim as well as the bookish younger Ebenezer.
In the final analysis, despite a few broader pantomime insertions and a couple of atmospheric musical numbers, this Christmas show is more of an eye-glistener than a toe-tapper. As the crotchety Scrooge finally smiled on poor, principled Cratchit, either I finally smelled my first mince pie of the season or somewhere deep inside the Christmas spirit started to stir. Highly recommended for families and friends, even Uncle Scrooges like myself.
Reviewer: Mark Smith