A Christmas Carol
Book and lyrics by Ben Horslen and John Risebero based on the novel by Charles Dickens, music by Christopher Peake
Antic Disposition
Middle Temple Hall
–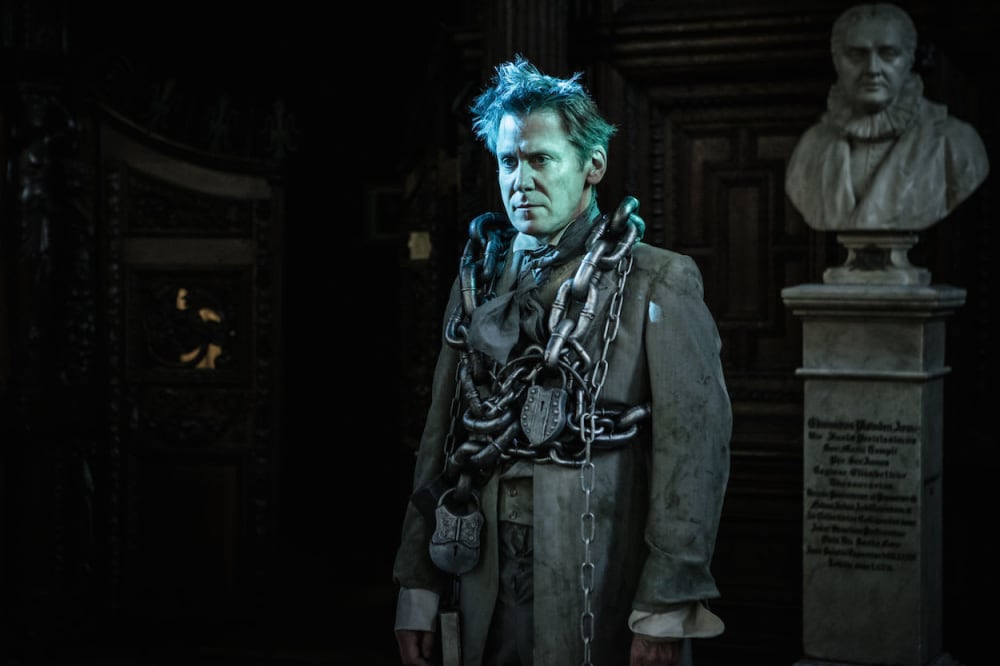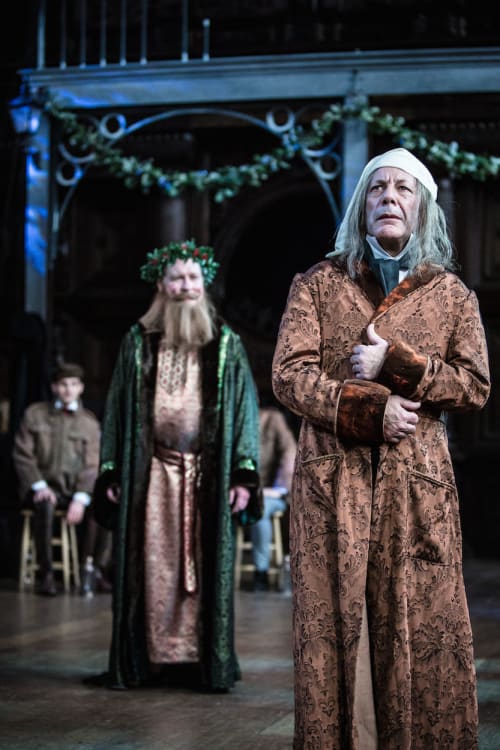 Another Christmas Carol! I'd endured too many I thought, but I have seen good site specific work from Antic Disposition's (including here in historic Middle Temple Hall) and a colleague whose taste I trust saw this production when first mounted two years ago said I mustn't miss it, she was going again. That changed my mind. I'm glad it did.
Of course location helps. It is a bit of an expedition to find the right way in through Middle Temple where the lamp-lit atmosphere of its venerable buildings helps to create a Dickensian mood. Mulled wine and mince pies upon arrival in the elegant panelled anterooms where lawyers gather create a Christmas warmth.
Portraits of eminent legal luminaries upon the walls emphasise social hierarchies, and not just Victorian ones but, although Dickens's tale of miserly old Ebenezer Scrooge shows the sharp contrast between the comfortable middle class Christmas fare and lower class poverty, his story is about the curmudgeonly usurer's reform.
It confronts him with the contrast between his happy youth and his grim future and shows him how even those with little means celebrate the festival. It is more an incitement to joy and generosity than a study in social awareness. Dickens knew what his readership would relish and Antic Disposition equally knows just how to please its audience.
Directors Ben Horslen and John Risebero have decked out their adaptation with versions of many of the favourite Christmas carols, though often with new lyrics to fit the story and some pointed alterations so that, for instance "tidings of great joy" becomes "tidings of humbug and gloom".
They have a familiar warmth and hugely help to create a Christmas atmosphere, though, with the difficult acoustic of this great hall (at least where I was in the production's thrust stage layout) and with the original words automatically coming into mind, the new text did not always register.
Fortunately that doesn't really affect the storytelling and though couple of the actresses aren't quite up to the vocal challenge of the space the lead players can mainly handle it.
David Burt has presence and power in his gritty grumbling Scrooge and fairly rapidly reveals the remnants of a friendly sort of character, excavated from beneath the years of heartless greed, when shown his Christmas past. It's a nicely judged performance that fits the space with a growling reality. He, his relations and the Cratchit family, especially Scrooge's over exploited clerk Bob (Paul Tonkin), are played in a very natural way.
The apparitions who appear to Scrooge are rather more theatrical in vocal manner. That matches their unworldliness but perhaps is the result of using text taken straight from the novella, written for reading not for speech.
Chris Courtenay's Ghost of Jacob Marley, weighed down with chains, is a striking image, picked out by Tom Boucher's atmospheric lighting, but will only frighten the truly fearsome.
Christmas Past is a female ghost (Katie Lovell), a figure in white samite and white ringlets, like a silent movie queen, David Anthony a much warmer Ghost of Christmas Present, a wreath of holly on his head, while Christmas Future is a faceless figure swathed in black. The lead up to each of their appearances is beautifully done.
However little Scrooge may pay Bob Cratchit, this production doesn't make his family paupers and, though they manage most things cheaply, Tiny Tim has a smart new coat and muffler; it is their generosity of spirit that is important, not their need. It is a homeless girl with only sacking to keep her warm and miners carolling underground whom Christmas Present uses to illustrate the really needy.
It would be too Scrooge-like not to respond to the Christmas spirit of this production, a spirit that Dickens and this story played a role in creating, a spirit full of a nostalgia for holly and candles and oranges and brandy-flaming puddings. It doesn't over-indulge in sugary sentiment or overplay the pathos of crippled Little Tim and surely no one could fail to feel a tearful kind of joy when he leads a final carol and pronounces a last "Bless us all".
This is, however, a company show that they can all be proud of with its excellent band, Christopher Peake's music and Theo Holloway's sound design all playing their part in a production that feels as much part of Christmas as the Christmas tree outside and the mince pies and mulled wine with which the evening began.
Reviewer: Howard Loxton