A Christmas Carol
Neil Bartlett, based on the novella by Charles Dickens
Northern Stage
Northern Stage, Newcastle
–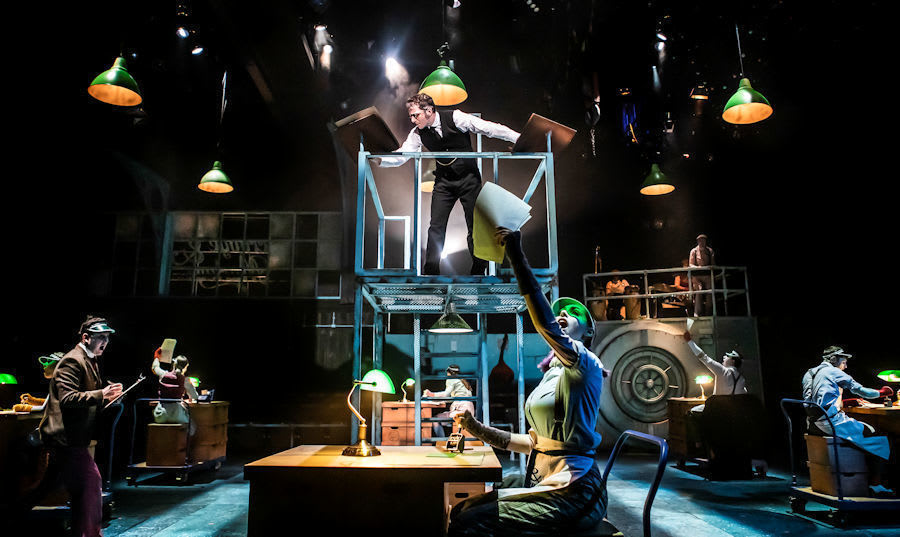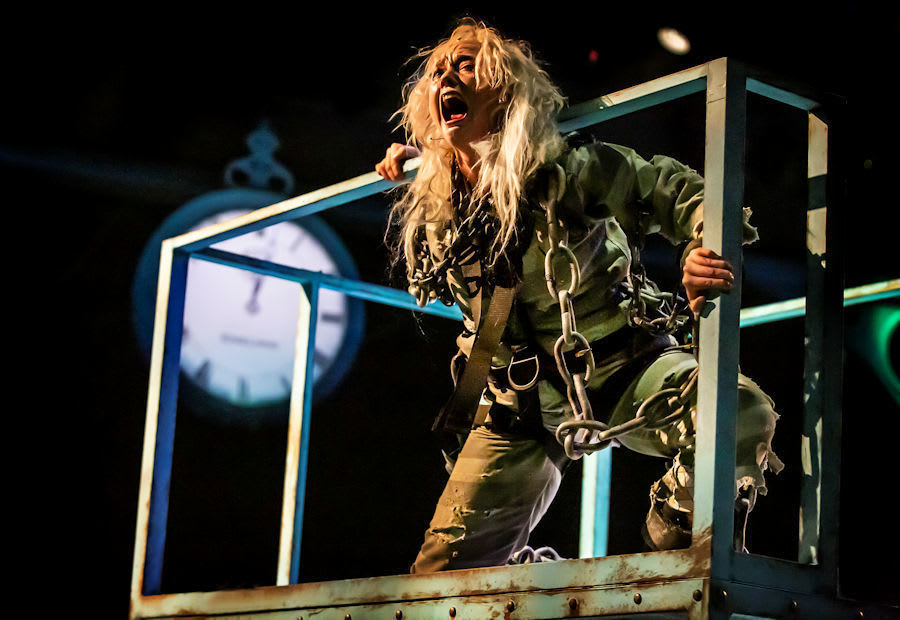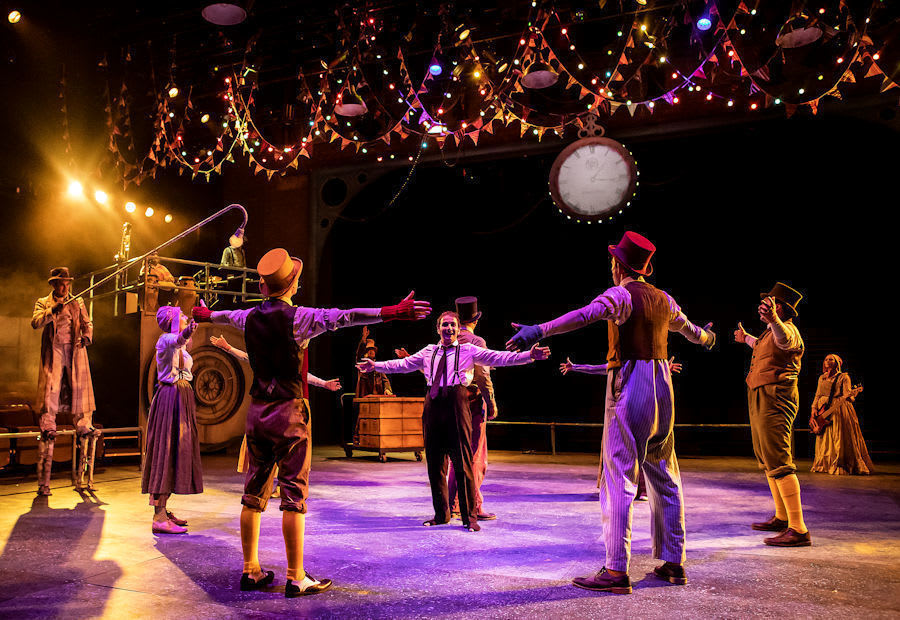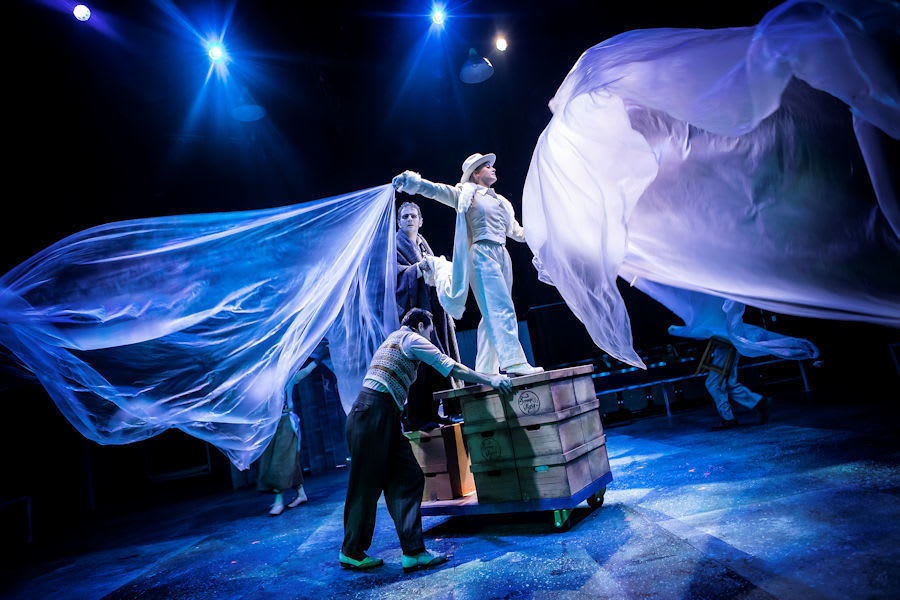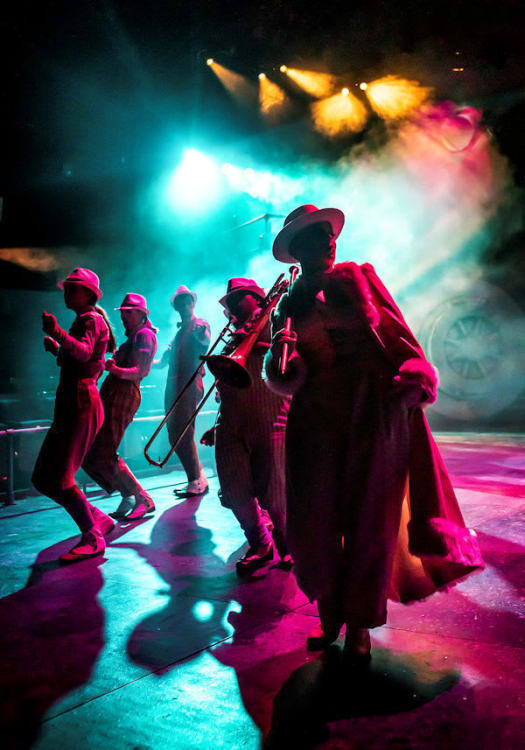 "It's A Christmas Carol, Jim, but not as we know it."
To recycle that classic quotation from Star Trek seems quite appropriate for Mark Calvert's production. We do tend to think of much of A Christmas Carol as being dark, with its background of Scrooge's miserliness; of the post-mortem suffering of those who do evil, such as Jacob Marley; of the poverty even of those in work, such as the Cratchit family; of the suffering of desperately poor children, such as Ignorance and Want; of the greed at all levels of society, such as the future dead Scrooge's cleaner and her friends stealing his possessions and his fellow businessmen who will only attend his funeral if lunch is provided.
But in fact there is more to it than that. There is the simple joy in being together which the Cratchits exemplify; the attempts of Scrooge's nephew, Fred, to draw him into his family's celebrations; the memory of Mr Fezziwig's parties in Scrooge's youth—and his engagement to Fezziwig's daughter Belle. And there is the sound of bells.
Calvert's vision of the piece is to keep these different sides of the coin in front of us at all times. The first scene, in Scrooge's counting house on Christmas Eve, has all the workers waiting with barely suppressed impatience for the end of the working day. "Scratch scratch," they say as they write their columns of figures; "Tick tock," they mutter as the time passes so slowly, but they are eventually released and the Christmas celebrations can begin. And they do begin. Immediately.
Calvert has opened up the wall between Stage 1 and Stage 2 and the play is performed in a large in-the-round configuration. A gantry and a separate set of stairs on wheels becomes the major focus, representing first the office, then Scrooge's bedroom, as well as other significant places, whilst other pieces of set are brought on and off on trolleys pushed by the ensemble of seven students from Newcastle College, who are also at various times singers, dancers, crowds in the street on bikes or running, players of minor parts.
Yet again, the set and costumes are designed by Rhys Jarman, a regular collaborator with Mark Calvert, and as ever they seem just right—and there is no compliment greater than that. And his work is well supported by Saam Vivash's lighting which does much to establish the mood and atmosphere or each scene.
The movement, in fact, is impressively choreographed by movement director Martin Hylton and performed with great precision and huge enthusiasm by principals and ensemble alike. And the dance, a mixture of Jitterbug and Charleston, is both energetic and exciting.
The music is written by composer and musical director Dr Hannabiell Sanders, who also performs (and plays a mean bass trombone!), who says, "I have taken traditional English Christmas carols and spiced them up by using rhythm, syncopation, call and response… found in jazz, gospel, blues, soul and West African drumming." And with what a thrilling result!
All the cast, with the exception of Nick Figgis (Scrooge) and Craig Fairbairn (Bob Cratchit) multi-role, revealing the depths of their versatility; Rachel Dawson, for example, plays both the agonised Ghost of Jacob Marley and the lovely Mrs Cratchit—there can be few more different roles!
I really can't fault the cast, both pros and students.
And there are some lovely touches too. The Supernaturals, for example: Marley tattered and torn, with hair all askew; the top-hatted Christmas Past in off-white on stilts carrying a light even taller than himself; Christmas Present, all in white with trilby, and Christmas Past, the faceless figure of death in tattered grey, so tall as to almost touch the lighting rig. And as for Ignorance and Want—two horrifying puppets carried all the way round the edge of the stage and almost thrust into the faces of the audience. Nothing could have made the point so effectively.
No, there was no Christmas audience participation, except for clapping along with the music, but then, A Christmas Carol hardly lends itself to it, but the 12-year-old son of a friend and his friend who were sitting along the row from me loved it.
As did I. Need I say more?
Reviewer: Peter Lathan