A Christmas Carol
Based on the novel by Charles Dickens, adapted by Kate Ferguson & Susannah Pearse
Octagon Theatre
Octagon Theatre
–

Listing details and ticket info...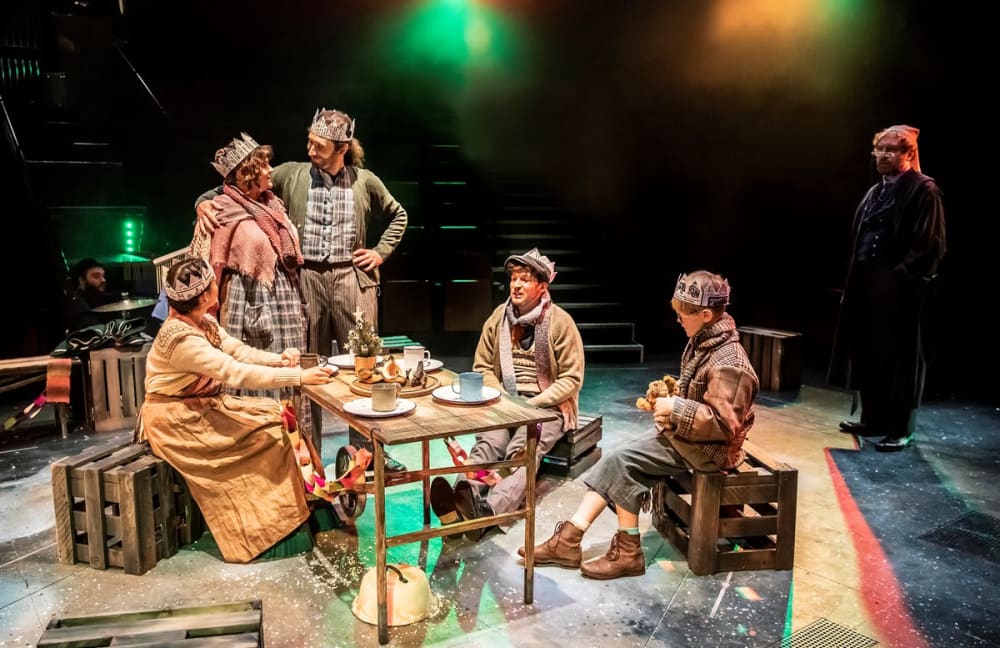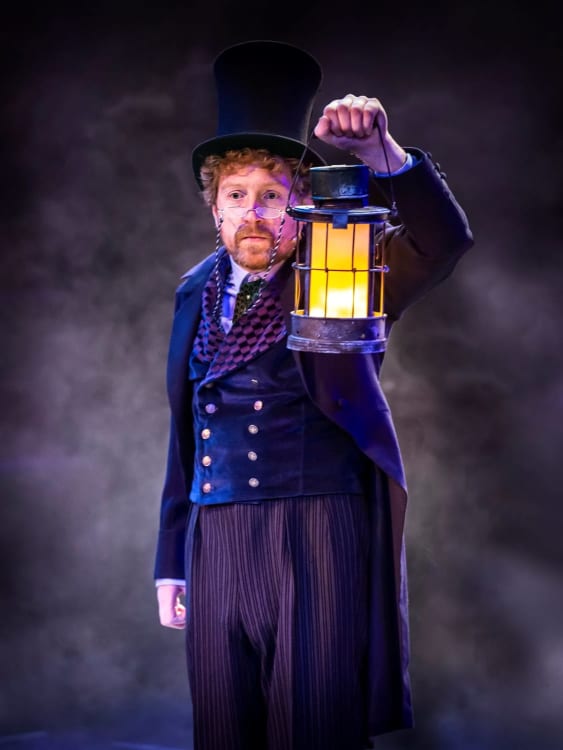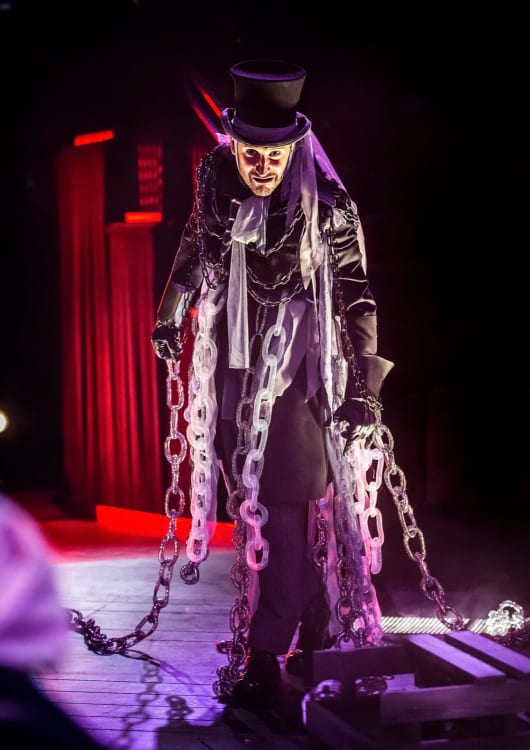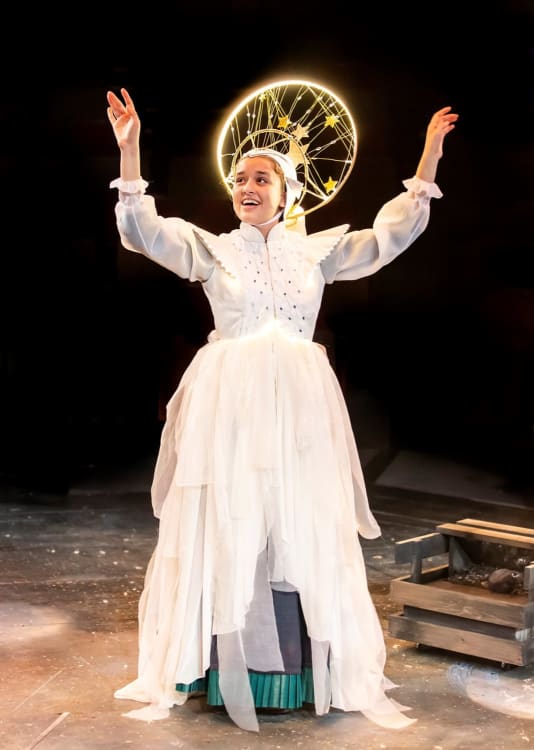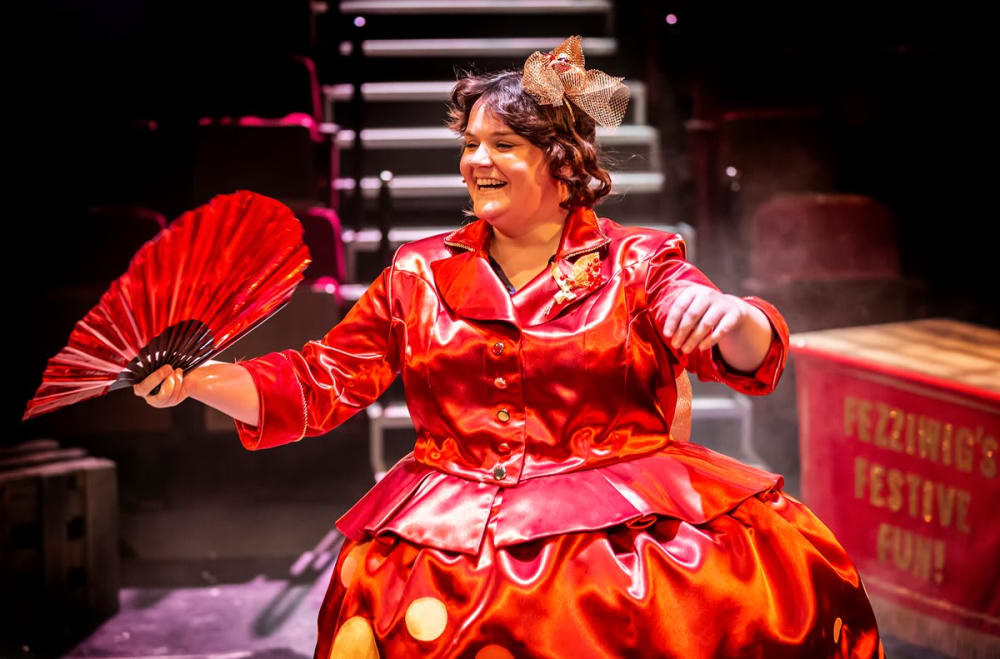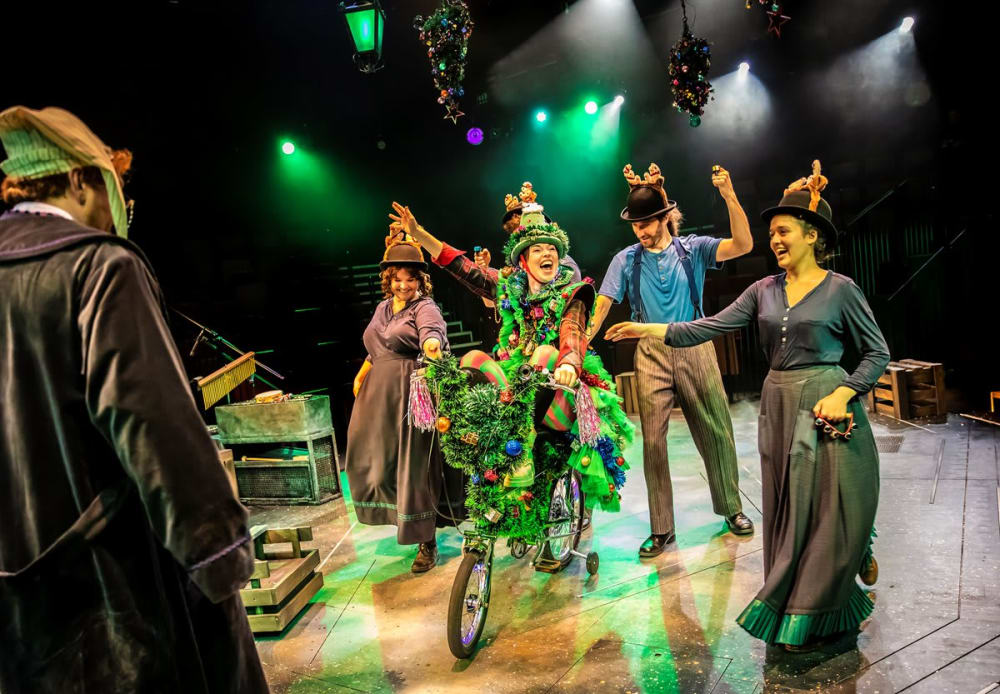 At this time of year, you don't have to travel far to find a production of A Christmas Carol—there are six in our listings currently running as I write this, including two touring versions, and others yet to open—but then this is a story of which I never tire. The Octagon has commissioned this version from Kate Ferguson and Susannah Pearse, which has been in development for two and a half years due to you-know-what, and they have already been booked to adapt Around the World in 80 Days for next year, tickets already on sale.
As has become increasingly common, especially for literary adaptations on smaller stages, director Georgia Murphy has used a cast of just seven multi-talented actor-musicians to create an array of diverse Dickensian characters, with the exception of Laurie Jamieson's Scrooge and Dominic Smith's Tiny Tim (played at some other performances by Emma Kennedy-Rose and Florence Moluluo) who each play one character and no instruments.
Katie Scott's set and costume designs certainly set the mood, from simple but effective pieces of set like Scrooge's desk and fireplace that wheel easily on and off to the huge Christmas baubles that descend for the Fezziwig party and lit Christmas trees which come down in another scene, and all four ghosts look very effective. Timothy Skelly's lighting interacts with the design well, although I'm not sure what the UV lights were meant to do as they came on frequently but didn't appear to be lighting much other than anyone in the audience with a white top.
The adaptation uses the important points in Dickens's story but transposes some and adds a few new ones; there are some recognisable lines from Dickens, but they are often buried in other dialogue, making them less effective, especially the gags. The guessing game in which Scrooge is portrayed as "a disagreeable animal" by his nephew Fred becomes a game of charades played after dinner by the Cratchits, Ebenezer becomes his younger self in the past scenes rather than being seen to observe them and Ebenezer's late sister Fan (Lauren Patel) has a greatly expanded role, ending the first act by telling him everything he has done wrong rather than leaving him to discover this himself through the final two ghosts.
The songs work well enough, and there are lot of them (one person I spoke to at the interval considered there were too many, interrupting the flow) with great music but variable lyrics, which are sometimes muffled by the lack of clarity in the vocal sound (which I'm sure would have been a lot clearer without mics in a venue of this size).
This Scrooge comes across more as bumbling and pathetic than intimidating; people react with puzzlement rather than fear towards him and then dismiss him, so it is believable that the Cratchits would mock him in a party game rather than Bob raising a toast to him as Dickens has him do. In fact, he doesn't seem greatly changed at the end. Robert Wade's Fred, usually the one who talks sense, is bumbling in a different way and quite annoying, though he does gain some sympathy by the end.
Jonathan Charles is very effective as Jacob Marley's ghost with a perfect combination of costume, lighting and sound (sound designer Annie May Fletcher), plus Leanne Harvey is a lively Christmas Present dressed as a Christmas tree and arriving on a bike (an old Chopper I think, complete with stabilisers), whereas Christmas Yet To Come is just a cloak, indicating to Scrooge from the middle of the auditorium.
This is Dickens with the rough edges smoothed out, completely unthreatening and with much added silliness plus a song for which the audience is expected to stand and join in with the dance moves like a pantomime—led by Grace Firth as Mrs Fezziwig in a very assured and impressive professional theatre debut. There are some new ideas that are interesting but don't fit comfortably with the rest of the story, but overall, it's a lively, festive production with a hard-working cast that many family audiences will enjoy this Christmas.
Reviewer: David Chadderton