A Christmas Carol
Charles Dickens adapted by Jack Thorne
Old Vic
Old Vic Theatre
–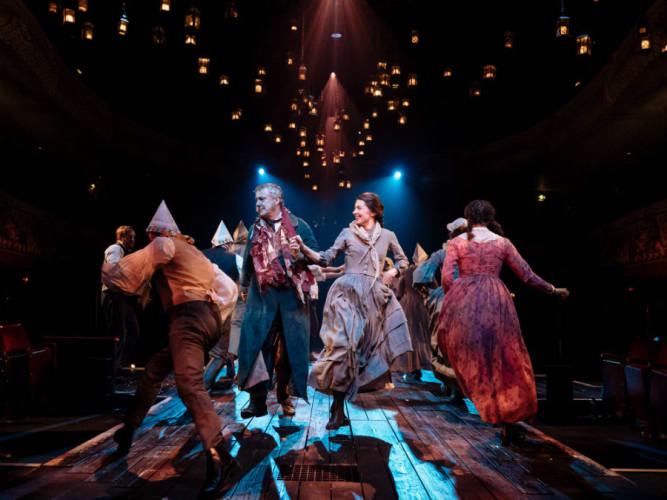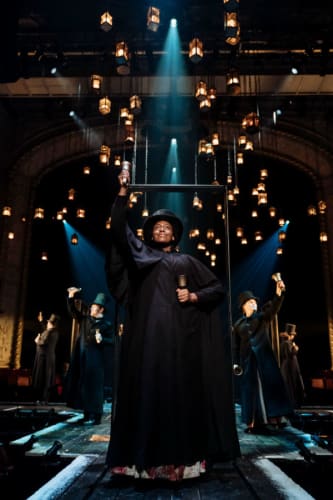 There's lots of festive fun in the Old Vic's entertaining adaptation of A Christmas Carol.
The audience are greeted with free mince pies and satsumas. There is bright singing and bell ringing of carols throughout the performance. Clouds of thick snow are twice blown onto the audience and when the cast organise a party for the Cratchits they playfully roll potatoes and other food down linen chutes from the upper levels of the Lillian Baylis Circle to the centre of the stage in-the-round.
There is even a pantomime touch to their opening as they tell us we are to see "a ghost story of Christmas" and then encourage the audience to roar "oooer" in response.
They spend just the briefest time with Scrooge (Stephen Tompkinson) in his office being mean to Bob Cratchit (Peter Caulfield) and some passing singers before they bring on the ghosts.
Marley (Michael Rouse) his former partner, sometime dead, makes a swift visit trailing long lines of chains that extend through the stalls and possibly into the foyer. He is followed by some very quirky easy-going ghosts of Christmas past, present and future. Each is a woman pushing an empty pram.
The ghost of Christmas present (Nicola Hughes) says she would like to be called Brenda and the ghost of Christmas future arrives in the person of his dead sister Fan (Witney White) who refers to the other ghosts as her "colleagues". These are not the stuff of nightmares.
This is a story of lost children, of those like Tiny Tim (performed on press night by Lenny Rush one of four actors playing the part) who die as a consequence of poverty, of those like Scrooge who had his childhood abruptly ended by a drunken brutal father (Michael Rouse) who beats him and takes him out of school to work for a funeral company. And of course those empty prams may be a nod to Scrooge remaining childless.
The hint of the way things might have been different comes particularly from Scrooge's encounters with Belle (Frances McNamee), the daughter of his first employer Fezziwig (Alastair Parker) who argues for putting need before profit in running the business.
Its a brisk, constantly moving performance with a minimal set beneath a cross of hanging lanterns. Scenes are often linked by the book's narrative delivered by many of the cast speaking a line each.
The night of ghostly memories and the premonition of things to come work their magic on the former hard-hearted Scrooge who says, "oh tell me how I may change the way the world spins."
But we haven't been given an idea how the world was to Dickens who wrote A Christmas Carol in political rage, or what is wrong with our own age that needs to change the way it spins.
Scrooge has little more than a slight grumble before he is taken to become his younger self, laughing, joking and having a fine time at the home of the Fezziwigs.
There is no anger and very little beyond a cruel father as context in this production. It is simply a confident, cosy, entertaining show that sends us cheerfully into the London streets.
Reviewer: Keith Mckenna