A Christmas Carol
Charles Dickens, adapted by Neil Duffield
Royal Lyceum Theatre Company
The Lyceum, Edinburgh
–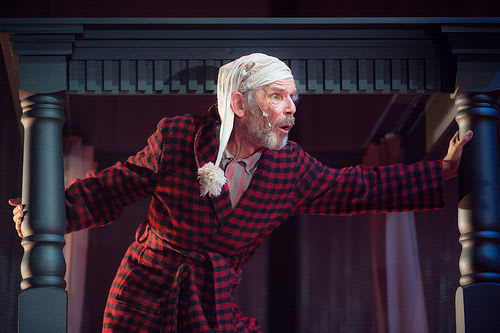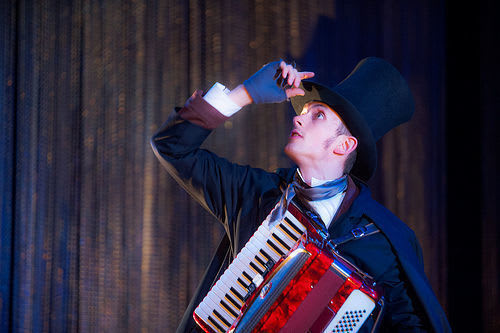 There have been some years where the Lyceum's December production has been darker than your standard Christmas fayre. Fairy tales without cheesy jokes, a bah humbug to the silliness of panto season in theatreland. This year though they've embraced Christmas in all its rich Victorian glory.
Dickens's story is, particularly for Dickens, a very brief, concise affair. Writer Neil Duffield and director Andrew Panton flesh out the action without interfering with Dickens's simple plot or the message at the short story's heart. Carol singing is used a great deal, keeping the younger members of the audience engaged but also adding to the Victorian Christmas aesthetic.
While the piece's sincere message is especially relevant today, the action is very firmly rooted in Dickens's London. Dollhouse-sized buildings represent the grimy industrial streets; ragged urchins reveal the poverty and problems behind the boastful British imperial veneer.
Christopher Fairbank makes a very active, physical Ebenezer Scrooge, miserly with his money, but generous with his insults. Although he is ruthlessly rude and bitter at the start his conversion happens relatively quickly during the visitations of the three spirits. The change in character is displayed very movingly, particularly Scrooge's childlike excitement brought on by the happy moments of his earlier Christmases.
The cast of eight adults and three children play many roles and instruments. Lewis Howden dominates the stage in a demonic way as the late Jacob Marley, but also uses his booming voice for jollity as the Ghost of Christmas Present and Mr Fezziwig, Scrooge's generous old employer.
Pauline Knowles and Angel Hardie play an impressive range across a very broad social spectrum, as do the three children, who also add to the songs in both range and in that feeling of sweet, unspoiled Christmas cheer.
It all sounds horribly corny, but it is pulled off with such sincerity and skill by small, strong cast without resorting to any over-the-top technical effects, which is both fitting of the Victorian setting and bonds you with the engaging cast.
Beneath it all is very strong message, not just about being generous and not miserly with your money and your time, which has perhaps been used by some as an excuse to promote the commercial side of Christmas. The real message though goes far beyond just Christmas and is about making the most of your life, the really valuable thing we all have.
The piece does a really wonderful job of keeping all ages entertained, with none of the knowing winks of the pantomime. It also packs in plenty of humour, Fairbank's physicality, the Falstaffian Ghost of Christmas Present, although it can create a few tears of sadness too, but the cast work very hard at the end to make sure that everyone leaves with a smile on their face.
Merry Christmas; God bless us, Everyone.
Reviewer: Seth Ewin