A Christmas Carol
Charles Dickens, a version by Jack Thorne
The Old Vic
–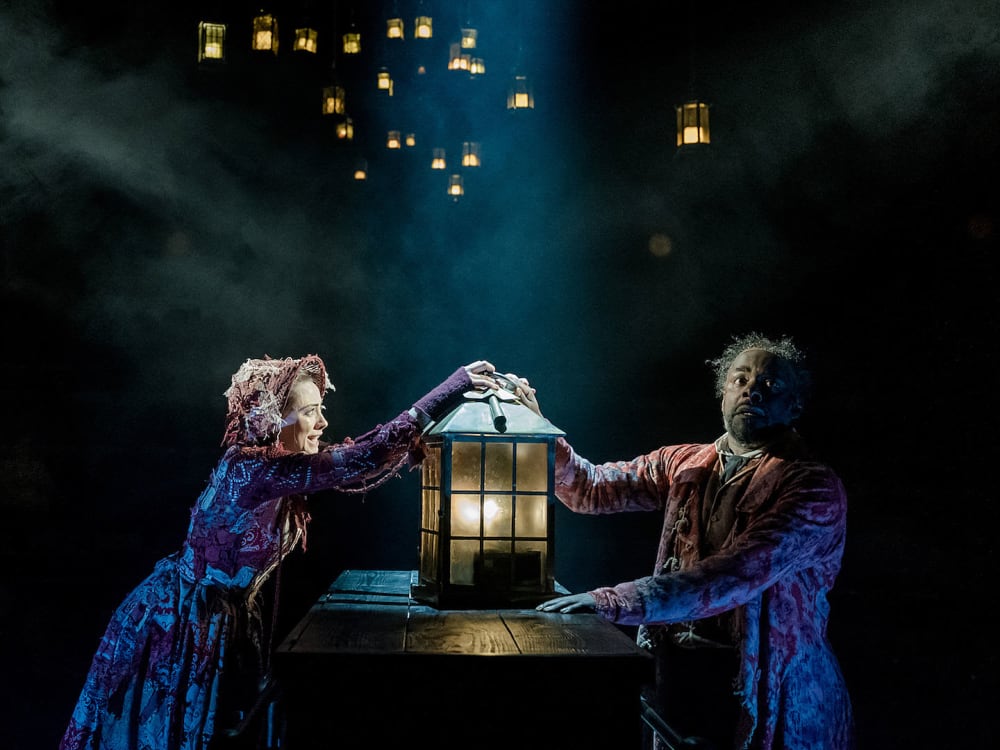 This highly spirited adaptation of Dickens's Victorian yarn about miserly money lender Ebenezer Scrooge visited by three Christmas spirits bringing to life his past, present and future to change his fate plays at the Old Vic for its third successive Christmas run.
Not a surprise as this production is quite the Christmassy theatrical experience from shaving foam snow, swinging lanterns, much bell ringing and the contents of Christmas dinner passed from audience to actors onstage.
Dickensian Christmas spirit is lavished upon us in the Old Vic round and my young guest is delighted by the proffering of mince pies and satsumas as we are ushered to our seats accompanied by violin-strumming actors in dark coat tails and top hats.
The scene is set to replicate the backstreets of Dickensian London with the soundscape of a choral concert. Much of the narrative is projected through song and is bathed in atmospheric light by Hugh Vanstone. Lanterns hang above the actor's heads, "swinging like the pendulums of clocks beating out the precious minutes Scrooge has left." Perhaps a metaphor for a man who has little light left, even though the ghosts bring him closer to the light.
The production may only touch lightly on the tale's background of rampant poverty in Victorian London, but it still digs deep emotively, masterfully balancing out gloom with an air of Christmas festivity and optimism. "I wish it was Christmas tomorrow," whispers my junior reviewer, and I know what she means.
Matthew Warchus and writer Jack Thorne have successfully focused on bringing Scrooge's relationship with his abusive father to the fore and his poignant relationship with sister, Little Fan, played tenderly by Melissa Allan. This all conspires to cause heartache and empathy before we can hate the man irredeemably. The only problem is that as history is brought to life and Scrooge meets his young self, it's a confusing transition between past self, played by a younger actor, then sometimes by Patterson Joseph, as Scrooge.
The acting though, is superb with Joseph's powerful, belligerent Scrooge believably Grinch-worthy, yet at the same time vulnerable, while Tiny Tim, played by Rayhaan Kufour Grey, literally has the audience reaching out for a box of tissues.
After a fairly bleak first half, where I was desperate to see some colourful scenes of childhood come to life to counterbalance the gloom of Scrooge's current existence, the second half turns on the festive spirit like switching on the fairy lights of the Christmas tree.
Christopher Nightingale's beautiful choral arrangements of carols can be heard from every angle of the theatre. Look up and voices drift down from the top of the amphitheatre as if the angels themselves had been called to sing.
The Cratchits' Christmas dinner literally flies down the aisles on a pulley system, while cakes, jellies and strings of sausages pass across the audience to build a panto-like atmosphere of collaboration. We are, after all, all responsible for helping the less fortunate and somehow for all the plastic cakes and fake snow sits a beautiful message that if people come together, change is possible and life might just be a little less gloomy.
At the end of the show, ushers collect for Coram Beanstalk, the charity for disadvantaged children to learn to read and, with recent reports of child poverty on the increase, there seems no better time to dig deep and donate.
Reviewer: Rachel Nouchi