A Cinema in South Georgia
Jeffrey Mayhew & Susan Wilson
The Braw Buoys
Pleasance Courtyard
–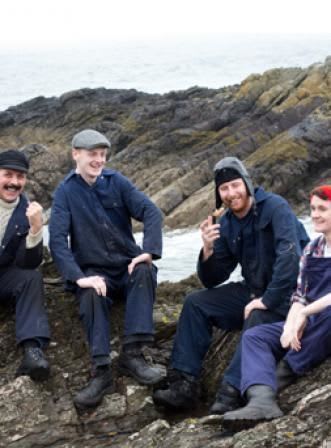 You'd be forgiven upon walking into A Cinema In South Georgia for being baffled when a host of burly singing Scottish sailors traipse onstage talking about whales and Leith, as the average person is unlikely to be well versed enough in geography to instantly pinpoint the South Georgia in question.
Rather than in the South of the American state or country in the Caucas region of eastern Europe, this play is situated on the Sandwich islands in the southern hemisphere, sitting just outside of Antarctica. What's more, the 'cinema' in question is only a minor part of the story, this being a tale of whalers.
The play has been collated by writers Susan Wilson and Jeffrew Mayhew from true accounts of real whalers, sharing their experiences of the cold, the loneliness, the humour and the anger of heading to the ends of the earth to catch and butcher the world's largest sea mammals.
Set roughly around 1959, it concerns four men, Jim, Fraser, Archie and youngster Robbie, who each have their reasons to have chosen a life at the ends of the earth. Their back-stories and the tales of their work and play, including making illicit homebrews, are a fascinating insight into a life of dim misery, hard graft and a very real kindling of the human spirit.
The Braw Buoys have brought the sort of bittersweet play to the Fringe that leaves you uplifted, enlightened and really feeling an emotional attachment to a time and place all but lost to us.
The pacing of the production does feel occasionally a little off however, and the time taken to introduce the characters could have been shortened but it's well worth the admission and an enriching look into the past. Yet one really does need to ask if they could have chosen a less confusing title.
Reviewer: Graeme Strachan