A Classical Farewell

Carlos Acosta
The Lowry
–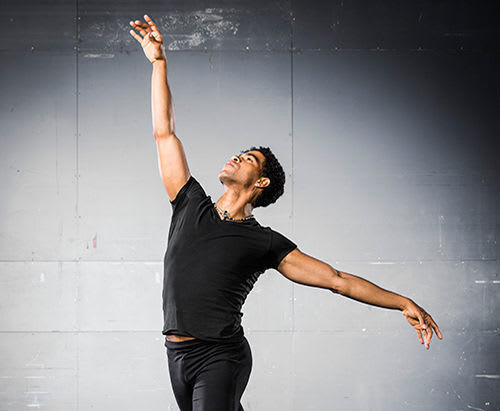 Carlos Acosta retires from the stage with his Classical Farewell tour, a showcase of varied ballet works co-produced by Sadler's Wells and backgrounded by live music from Manchester Camerata. Rather than bowing out with a gala built around his own performances, Acosta uses this opportunity to introduce a clutch of Cuban guest artists.
It's a modest approach that reflects the aims of his post-performance career—to establish his own company, Acosta Danza, and to create a dance centre in Havana—but the fact that he is only on stage for a quarter of the show could be a disappointment to some audiences.
Another feature that sets this production apart from other ballet galas is its interesting framing device. A Classical Farewell begins with the dancers strolling on stage in black rehearsal clothes, greeting each other and starting to warm up.
At the finale of the show—and at breaks between dances—they return to this portrayal of backstage life by changing costume, stretching or just sitting on the floor. This device brings a refreshing sense of reality to the show, demonstrating the practice behind every polished ballet performance.
The first half of the show is devoted to the classics—Swan Lake, La Sylphide, The Dying Swan—which are unfortunately dotted with nervous slips. The pas de deux from Winter Dreams sticks out thanks to Kenneth MacMillan's bold choreographic brush strokes. Even out of context, this duet proves emotive and both Ely Regina Hernández and Luis Valle—who even looks like Acosta—dance it with power and expression.
Acosta's single appearance in this half is in the Diana & Actaeon pas de deux—even though his athleticism has ebbed, he is still a commanding presence on stage. He has a strong partner in Laura Rodríguez, who matches his movements with sharpness and poise.
The contemporary programme for the second half of the show appears to suit Acosta's dancers better. Gabriela Lugo, who appears awkwardly tense in the arms and shoulders as The Dying Swan, transforms in her solo Anadromous—her fluid movements and floating costume blend beautifully with the piano score rippling light projections.
As well as showcasing Cuban dance talent to a UK audience, Acosta's carefully selected programme also includes work by lesser known choreographers—Ben Stevenson's End of Time is an elegaic and modern piece containing some unusual floor work, whilst A Buenos Aires is an electric combination of ballet and Argentine Tango. Acosta's own choreography appears in an extract from his Carmen, an erotic duet that audibly shocks the audience.
Van Cauwenbergh's two character solos have oddly literal choreography—Acosta embodies his cheeky, swaggering drunk character in Les Bourgeois, but the robotic movements of Ely Regina Hernández to Edith Piaf detract from the power of Je Ne Regrette Rien.
The grand finale, Majisimo, echoes Don Quixote in its classical portrayal of Spain. Led by Acosta, this dance sequence features dramatic port de bras, fans used as percussion, big jumps and plenty of flourishes, all danced with authentic Central American flair.
It's a privilege to see Carlos Acosta dance one final time, if only briefly, as he passes the torch to the next generation. In a poignantly understated final moment, Acosta hangs up his costume, shoulders his bag and waves to the audience as he walks slowly off the empty stage.
Reviewer: Georgina Wells