A Clockwork Orange
Anthony Burgess
Action to the Word
Soho Theatre
–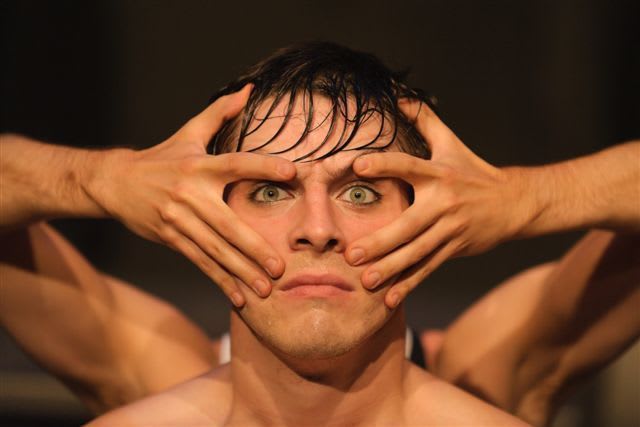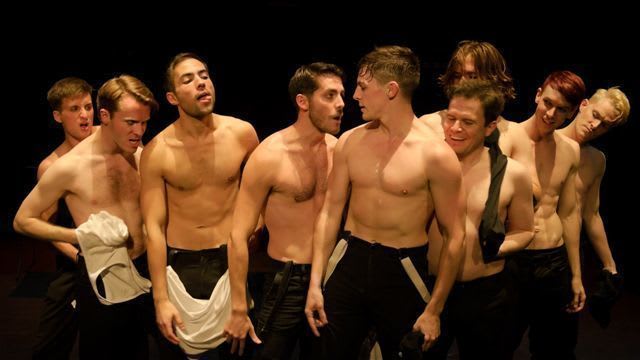 Already seen in Edinburgh and developed from original workshops in 2009, this very physical production of Burgess's own adaptation of his novel now reaches London with most of its current young cast and its director Alexandra Spencer-Jones making their London professional debuts.
The well-known story of teenage gang leader Alex who is given chemical and psychological conditioning which removes free will and choice and makes him reject violence is presented by an all-male cast, with a couple of female characters identified by a costume detail and flouncing. Others morph into male roles with some man-on-man groping, a homoerotic display of bare chests, a male rape with a bottle and some camp pirouetting in choreographed fight scenes. It is not that it has been turned into a gay story but it spreads the testosterone less discriminately.
It is the episodes choreographed by Hannah Less and combat director Lewis Penfold that dominate this production. Set to lashings of Beethoven and with 1960s pop music used instead of the songs that Burgess himself wrote for the piece, they have an enormous vitality that carries through to the rest of the production which stylises movement, costume using variations on a black singlet and trousers that gives both difference and unity.
Martin McCreadle's Alex looks more Alpha Male than some of his skinnier, more twirly droogs but this is very much an ensemble production and its physical adventurousness relies on trust in the physical skill of fellow performers. The results are exciting.
In ninety minutes without interval, there is no time to elaborate character or explore ideas in depth but there is a very visceral energy that makes this stimulating theatre.
Reviewer: Howard Loxton