A Dark Night in Dalston
Stewart Permutt
Moya Productions, It Worx and Steven Harris in association with Park Theatre
Park Theatre (Park 90)
–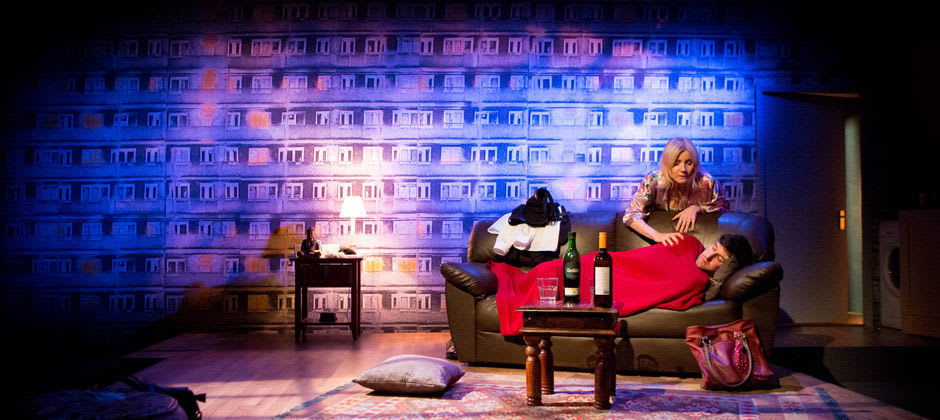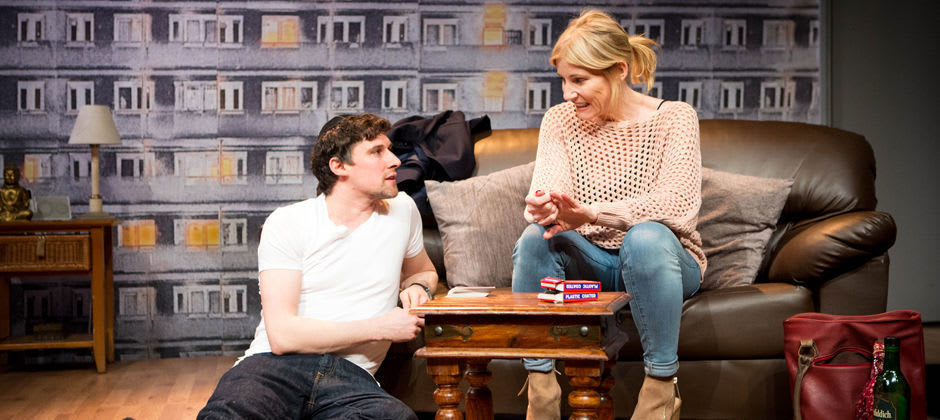 Gideon is an accountant from an Orthodox Jewish family who is a fan of contemporary film noir (nouveau film noir he calls it) and aspires to make movies. He's been to visit a prostitute in Dalston; she is a "very nice girl", not at all the common tart her neighbour seems to think. Leaving her place, he's been beaten. That's how the neighbour finds him by her bins, bleeding and not quite sure what has happened.
This is Gina, who offers help and insists he comes in so that she can clean him up and he can recover. She has been a professional medic, a nurse in a children's ward, she knows what she is talking about, and she want's him to stay until he has got over the shock. He is concerned to get going because it is Friday, the Sabbath starts just before sunset and as a strict observer he will not able to use public transport. He has to get home to Stanmore, but he doesn't want to be rude to someone try to help him.
Too late, he realises it has got dark. The attack must have made his watch stop. He plans to walk to friends he can stay with, the Jewish guy he wants to make films with who happens to be gay and isn't religious but Gina is very persistent. What is she up too, particularly as her bloke is just a room away? But it turns out he's had a stroke and is almost immobile and unable to "do it".
As Gina's hospitality progresses from brown bread and crisp sarnies to knocking back whisky, we learn that he plans a film with a transgender hero/ine in a story involving so-called Islamic State. He reveals that he's getting married, a very nice girl and very attractive, though neither of them want the elaborate wedding their families are planning. She talks about her children who aren't speaking to her and disparages her neighbours. "If you've lost interest in gossip, you've lost interest in life," she tells him, quoting her auntie. As she tries to fit in with his Sabbath and kosher, you will learn quite a lot about Orthodox rules.
Nothing much actually happens, though it keeps looking as though it might, especially as they go on drinking. It looks as though this play is going nowhere and you are beginning to not really believe in the characters when things get melodramatic and Permutt starts to dip into psychiatric matters and adds a double dose of plot twists.
Most of the time, this feels as though this couple are engaged in a dark comedy, though not one you can easily laugh at, but at the same time it is trying to take on a study of the way people are trapped by their situations. It doesn't quite work. Joe Coen is perhaps just a little too nice as Gideon, who never seems to come out of the daze Gina finds him in.
The lively, mood-switching performance that director Tim Stark gets from Michelle Collins grabs the attention and keeps you watching as it turns into a tragedy. The production's naturalistic staging on a set that turns council blocks into wallpaper underlines the fact that these are ordinary people facing difficult problems, to remind us that the issues that it raises could affect anyone, but it is difficult to believe this behaviour without more back-story.
Reviewer: Howard Loxton