A Day by the Sea
N C Hunter
Two's Company and Karl Sydow, in association with Master Media Ltd
Southwark Playhouse (The Large)
–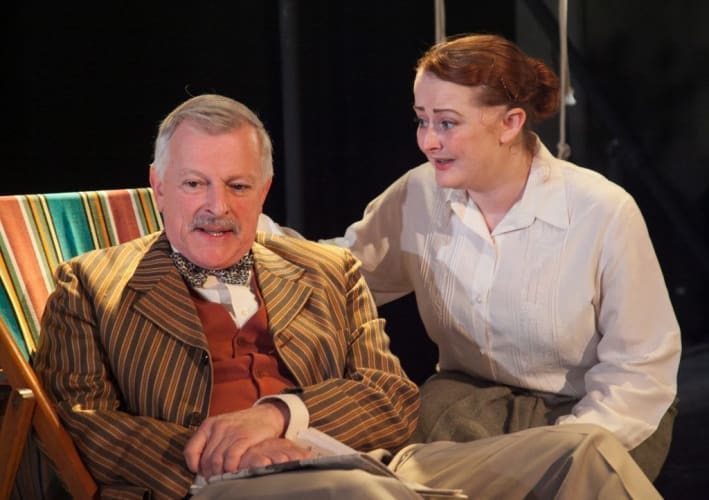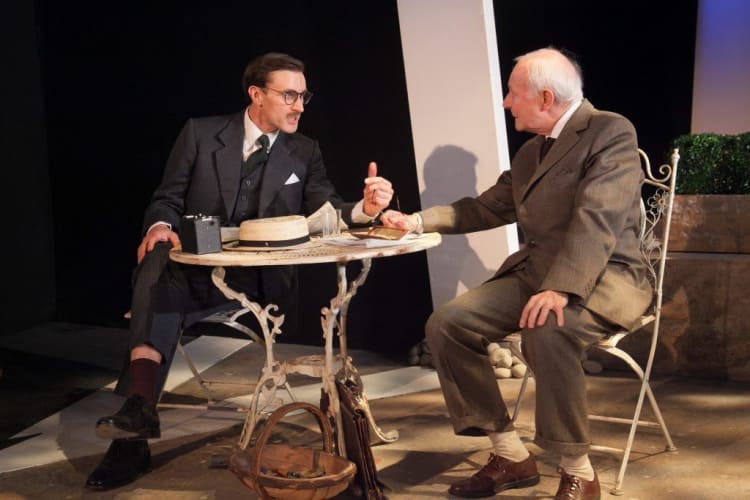 This is a splendid revival of a former West End success that's not been seen in London for more than 60 years.
When, in the early 1950s, N C Hunter had a number of West End successes he was dubbed the English Chekhov. Superficially, there are many parallels with the Russian master's plays: a doctor with problems, a mother's relationship with an unsatisfactory son, love unrequited, genteel families at a time of change, both writers provide a response to and a picture of the time when they were written, but, while Chekhov was breaking new ground theatrically, Hunter was meeting the demands of a commercial theatre.
A Day by the Sea is a play full not of action but life's disappointments. It doesn't have Chekhov's depth, nor so consciously toll the knell of a world that is passing, but it is a carefully constructed "well-made play". Middle-class West End audiences liked to see themselves on stage, or those further up the social scale, and that's what it offers, with roles strong enough to attract name actors, without a starring role to make them into supporting cast. The 1953 production had Gielgud, Richardson, Thorndike, Irene Worth and Lewis Casson (plus Megs Jenkins and Lockwood West, both well-known).
Here we have a family gathered in Dorset. Laura Anson is a widow whose life now revolves around her garden (where the play is set before moving to the seashore). Her aged brother-in-law David lives with her and the doctor engaged as his carer, her diplomat son Julian is on a visit from his post in Paris and adopted daughter Frances has returned for the first time in 20 years with her two children and their governess, plus visits from a solicitor and a Foreign Office official.
Laura is always pressing work-obsessed Julian to take a break from the job to which he is wedded, hiding her disappointment that he hasn't risen higher. Julian, who quotes Plato on devotion to the state, is in for even bigger blows occasioned by his lack of social skills. Frances, close to Julian when they were brought up together, looks back on two unsatisfactory marriages and a recent divorce. The doctor sees no future and finds comfort in gin while the governess was a husband and a settled life.
Two's Company's production isn't packed with stars but does get strong performances. Director Tricia Thorn presents it with a real sense of period. Alex Marker's setting suggests snapshots in a family album and it is not just the RP voices but also the style of the acting that suggests 1950. That's meant as a compliment—I don't mean it is dated, it is something to do with conveying what is happening beneath the façade of polite behaviour, making points with a conscious theatricality in a frame that declares this is natural.
Susan Tracy makes Laura entirely wrapped in her own world and gives her quite an acid streak. John Sackville is an excellent Julian, short-tempered, arrogant and impatient of others, but there is still a glimpse of the charm he must have had as a young man. When, too late, he realises he got things wrong, it is beautifully handled with a feeling of disbelief.
Frances is the opposite, a woman who knows her mistakes. A scene unburdening to Laura gives Alix Dunmore the opportunity to make us like her. Her problem is she knows herself too well.
There is a well-judged performance from David Acton as the Doctor—he may drown his own sorrows in gin but he's a realist. David Gooderson plays a bumbling solicitor who seems there for light relief: his fussing risks being overdone but the context of the production allows it. As aged David Anson, David Witworth totters and dozes, a mountain climber who never really got anywhere and for whom life now offers nothing.
Miss Mathieson, the governess, like Julian seems to have devoted her life to her work, to have lived for her charges, but as her currently employment nears its end she reaches out in what feels like a last search for happiness. As Stephanie Willson plays it, this becomes the most moving thing in the whole play.
I saw the original production but recall very little about it; the scandal of Gielgud's contemporaneous court case is much more remembered. A new generation of theatre makers and theatregoers pushed plays like this onto a back shelf. Was it worth digging it out again?
Decidedly yes. Perhaps you can still find country houses and people like this but today we would write about them differently. Hunter (like Rattigan and Coward) wrote for an audience with its own expectations of what theatre should be and tailored his work to that, he makes his points mainly through understatement. A more modern treatment might make the careful construction and pointedly histrionic moments of the play too evident.
Two's Company has done theatre a great service in its previous rediscoveries and here it has not only provided a chance to see a play perhaps too readily discarded but to give a glimpse of past theatre on its own terms.
Reviewer: Howard Loxton