A Director's Guide to Stanislavsky's Active Analysis
James Thomas
Bloomsbury Methuen Drama
Released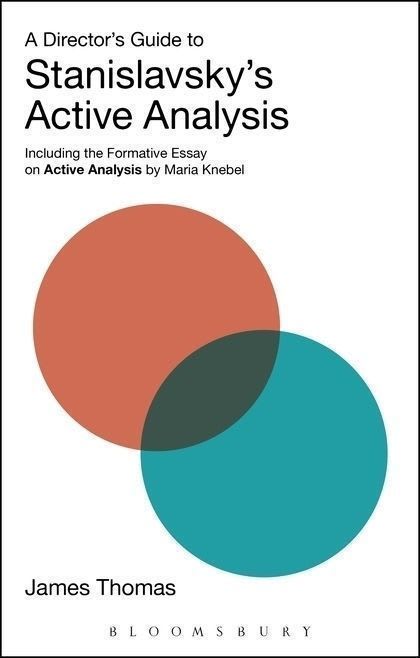 There can be no one who has had as great an impact on the acting profession and on directing than Constantin Stanislavski but, like anyone who has achieved "guru" status, there are still arguments not just about whether he was right but also about which is the "definitive" Stanislavski "system".
While his methods changed substantially in his lifetime, his intentions remained the same: to find a repeatable methodology for creating psychologically believable characters that react convincingly to the situations that befall them in the course of the play.
Some people confuse (and blame) Stanislavski for the excesses of some of the systems derived from his ideas. For many, Stanislavski's "system" is An Actor Prepares, the book he wrote as he was still developing his methods and which was substantially cut in his absence before publication. Later in his life, he started to develop a comprehensive rehearsal strategy, developed with a hand-picked group of willing students, which became know as the Method of Physical Actions—a misnomer according to Thomas who refers to it instead as the Method of Active Analysis.
Active Analysis is not so much a change in the later methodology of Stanislavski as a small addition with great implications. Whereas rehearsals used to begin with a lengthy period of table reading and script analysis, which can burden the actors with lots of ideas and information right at the start, this method gets them on their feet much earlier. The script is broken down bit by bit and each section is performed as an "etude": an improvised version of the scene in the actors' own words but sticking closely to the actions and intentions of the original.
This is labeled a "Director's Guide", but the director's involvement in the actual analysis as described here is minimal; while he or she should have an overall intention, the actors do their own analyses and are just nudged gently towards the greater plan every so often.
This book is in two sections: the first is Thomas's example implementation of the system using a production of A Midsummer Night's Dream; the second is Thomas's translation of an essay on Active Analysis by Maria Knebel, who was one of Stanislavski's students in those last years of his life.
Personally, I think I would have preferred the sections to be the other way around, as exercises are not easy to read through when you aren't doing them and the reasons for some of them don't make as much sense before you get to the theory. Knebel's article is fascinating, easy to read and practical in many ways, which made me want to go back to the exercises later to see how it can all be put into practice.
The Knebel translation makes this an important book for (non-Russian-speaking) Stanislavski students and those interested in his work. The exercises are a useful addition for acting and directing students, but, while it is quite an inspirational book, I think it would be difficult for most directors to fit everything in Stanislavski's "system" into the rehearsal periods of most professional theatre.
Reviewer: David Chadderton