A Dolls House Part 2
Lucas Hnath
Donmar Warehouse
Donmar Warehouse
–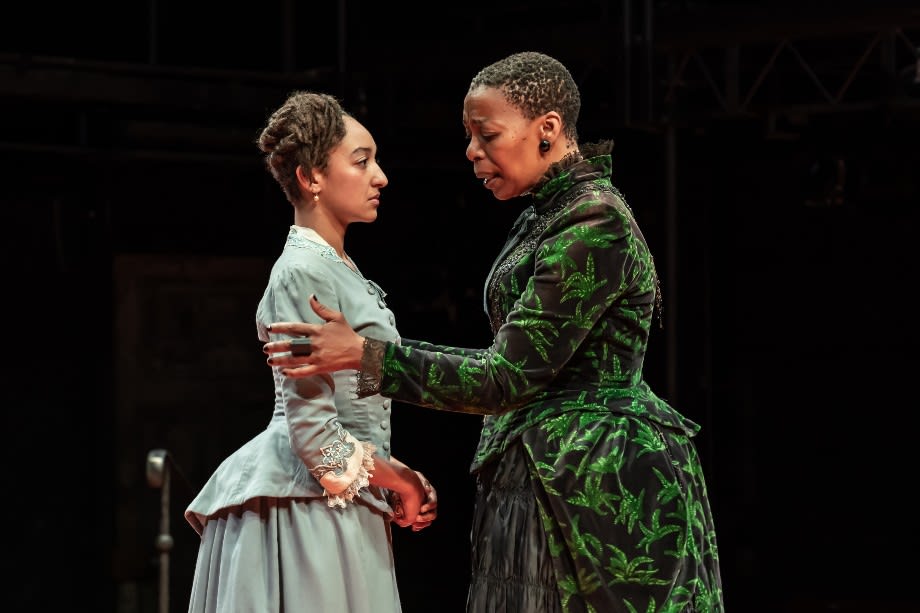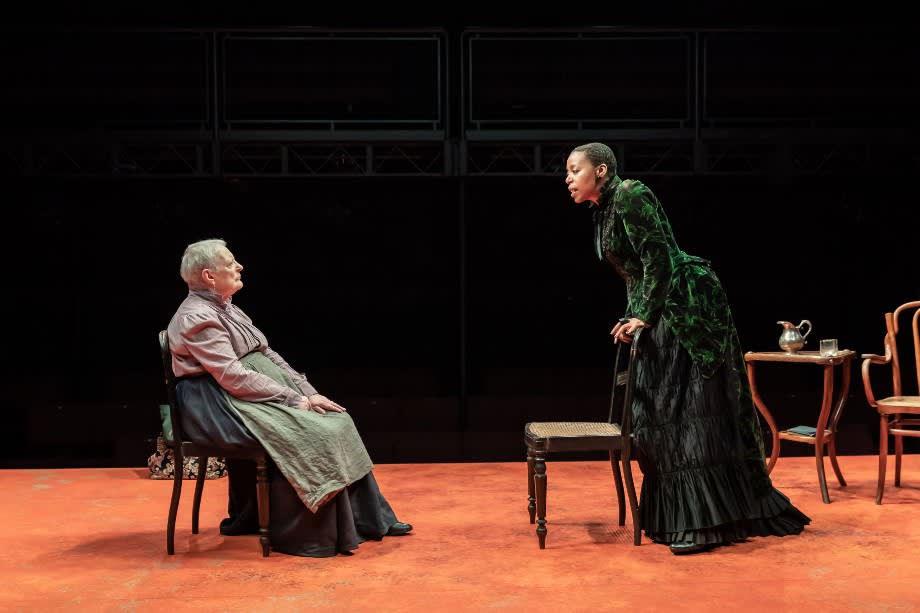 The door Nora slammed in the final moments of Ibsen's A Doll's House is the most famous sound in theatrical history. It was an act of defiance against the stupid oppression of women, an inspiration to women across the world.
Yet there were those who regarded that scene as immoral, as dangerous. It prompted boos from some in the audience and protests outside the theatre. How dare Nora walk out on her husband Torvald and her children. Some writers even turned their objections into plays that were rightly forgotten. Lucas Hnath enters the fray with his play A Doll's House Part 2 set fifteen years after Nora left the family home.
Nora (Noma Dumezweni) having become a successful writer with radical views has been threatened with public exposure for committing fraud by signing contracts as a single woman when she is still married. She returns to her former home to persuade her husband Torvald (Brian F O'Byrne) to carry out his promise to divorce her. Before meeting him, she tries to enlist the help of the nanny, Anne Marie (June Watson), and her daughter, Emmy (Patricia Allison).
It's a well-performed, compact performance in-the-round with a minimal set. The characters wear nineteenth-century clothes but speak a 21st-century language. A series of scenes become mini debates between Nora and different members of the household. The serious stuff is then peppered with lines to make you laugh.
A weary, limping Anne Marie is less than welcoming, pointing out that class differences between her and Nora meant she had to sacrifice her family to raise Nora's children. Increasingly irritated, she tells Nora, "I'm really pissed off with you… There's the door. I know you know how to use it."
Emmy having grown up without a mother also doesn't rush to help. Looking slightly resentful, she explains that she doesn't agree with her mother's attitude to marriage saying, "I want to be somebody's something." She thinks it's better if the family just pretends Nora is dead.
Torvald is emotionally still vulnerable. The nanny describes him as a broken man who needs a dog to keep him company. Yet he still tries to understand and help Nora. He buys and reads her book. He gets into a fight with a local bureaucrat who resists giving him divorce papers because Torvald has let them believe Nora is dead. Nothing works. Nora tells him reproachfully that she doesn't want "a saviour."
Of course, the anachronistic language does make it more difficult to believe we are seeing a slice of either 19th-century Norwegian society or our own society. But, as when an exasperated Ann Marie says "fuck you Nora," it can get a good laugh from those watching.
However, the dramatic licence of make-believe storytelling allows the playful insertion of modern ideas and words. It also allows us to overlook some of the improbabilities of the plot, such as Nora repeating the same kind of fraud she carried out in the Ibsen play.
More seriously, it has reduced what was an emancipatory call to arms against an oppressive system into a mildly interesting private marital conflict.
Yes, there is some attempt to give Nora's account of why she regards marriage as a problem and the difficulties she had in finding her own voice, but the play does shift our sympathies towards the family she has deserted and can leave you feeling Nora is self-centred, condescending and selfish.
The play is an interesting and entertaining ninety-minute academic 'what if' writing exercise, but it sadly also effectively sits in a tradition that wants us to cheer less when Nora walks rather than sit forever in the prison of a doll's house.
Reviewer: Keith Mckenna