A Dream of Dying
Treasa Nealon
Fake Escape Theatre
theSpace @ Surgeons Hall
–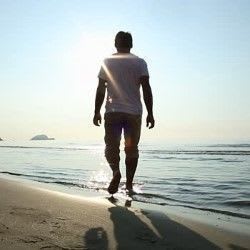 In 2009, the dead body of a man was found lying on a beach near the town of Sligo in Ireland.
When attempts were made to identify him, it transpired that the given name and address at his hotel were false and the recorded footage of him around the town pointed towards him disposing methodically of his possessions before presumably killing himself by drowning.
A Dream of Dying takes the premise of this yet unsolved mystery and uses it as a starting point from which to build the personal narrative of a troubled, depressed and lonely man. Interwoven between stories of his past, his meticulous plans are musings on love, life, happiness and the importance of achievable dreams.
The play is well acted and written with an almost schizoid flit from topics and timeframe as the monologue progresses. The result is a clever and often poignant exploration of human frailty, which peers into the inscrutable minds of those who never open up to others and the deep yawning chasms of despair which can engulf those to whom fate has dealt a cruel hand.
Reviewer: Graeme Strachan