A Farewell To Arms
Ernest Hemingway
Imitating the Dog and Dukes, Lancaster in association with Live at LICA, and CAST, Doncaster
The Dukes, Lancaster
–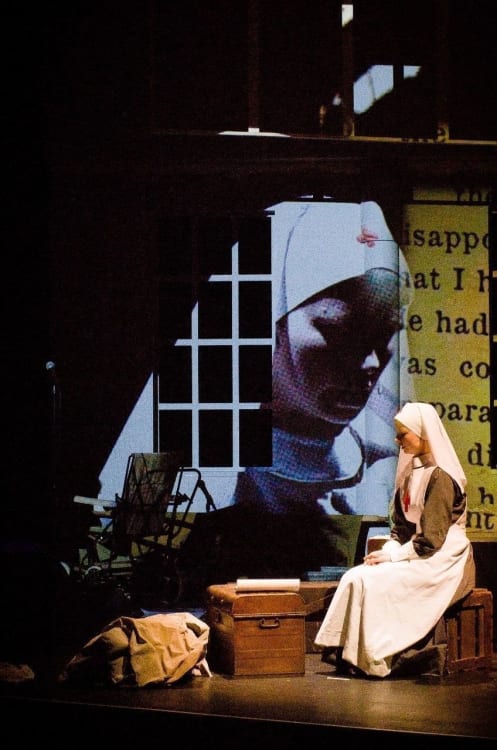 Is it a book? Is it a play? Is it a film? It's often all three at once in this highly-inventive game of theatrical charades.
Too often though it suffers from sensory overload and falls short of being a fully absorbing production.
The digital camera effects employed in a dramatisation of Ernest Hemingway's sprawling novel of wartime romance are often stunning. Watching them created on stage, before your eyes, you find yourself admiring their technique rather than appreciating their dramatic impact.
A character talks directly to camera and his close-up is projected directly to the stage wall behind, but there's a split second delay in transmission which leaves his lips distractingly behind his words. Some characters talk in Italian, or French, and sur-titles are beamed above the stage. Likewise projected pages from the book flip over—and over—while words and letters drift across and down the set design. And behind it all a persistent pianist potters away in the background.
Worst of all, the need for characters to be in shot for another close-up leads to a stillness in the acting and a loss of vital stage movement.
Every now and then, when the digitals dry up and the music dies down, there are glimpses of just what good drama is on offer, especially in the exchanges between doomed lovers Frederic Henry (played by Jude Monk McGowan) and Catherine Barkley (Laura Atherton).
At the play's over-wrought climax you can't help feeling there might have been a happier outcome if someone had told that pianist playing next door to keep it down a bit!
Four other cast members play assorted characters and, alternately, a chorus of narrators, besides being the camera operators.
Transferring—from the page to the stage—such a monumental book, with all its epic or intimate moments, was always going to be a challenge. The Lancaster-based team of theatrical mavericks behind the production, Imitating The Dog, again give us a glimpse of what might well be the future of theatre, but need to suppress the over-use of their digital box of tricks.
A Farewell To Arms goes on to tour nationally, and then to Italy.
This review is of a preview performance before the official press night.
Reviewer: David Upton