A Fight Against… (Una Lucha Contra…)
Pablo Manzi, translated by William Gregory
Royal Court Theatre and Teatro a Mil Foundation
Royal Court Theatre Upstairs
–

Listing details and ticket info...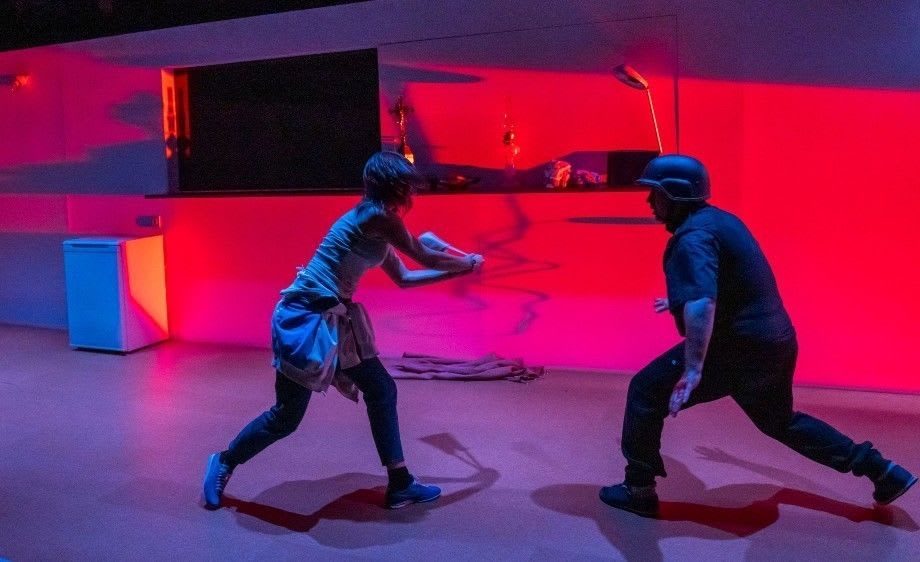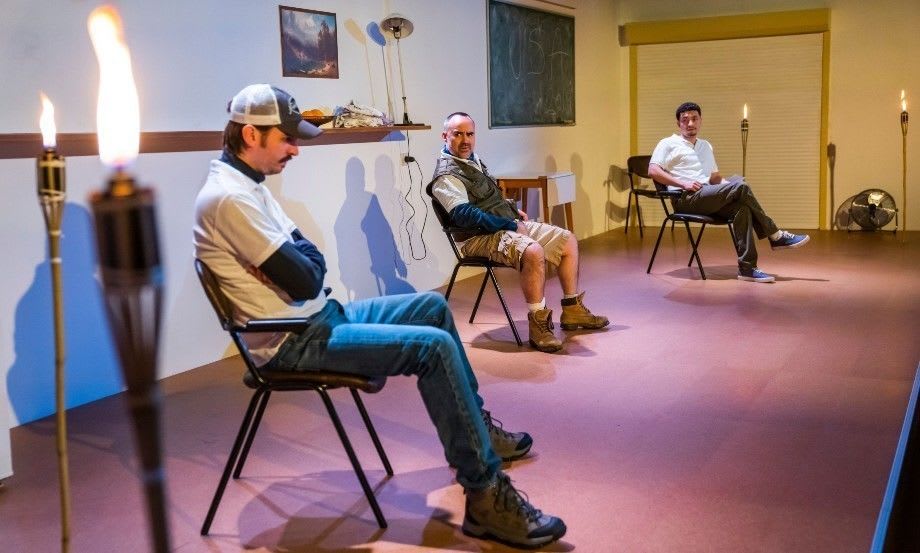 Pablo Manzi's bleak satiric vision of the Americas gives us people that are confused, alone and terrified by a violent world. Between the scenes, a young woman briefly appears manically dancing, or simply rocking oddly. The characters in each scene don't know each other but share a restless anxiety.
A lecturer (Jimena Larraguivel) in scene one reluctantly tells her partner (Joseph Balderrama) in their kitchen in Chile 2014 about the way she had been attacked in class earlier that day by a student she had asked to wind up her presentation in time for the break. The student had been saying "private property fragments our collective consciousness, it alienates us... and makes us believe we're alone."
Interrupted, she angrily slammed her teacher against the board using her hands to force the teacher's mouth wide before putting her mouth inside the teacher's mouth to tell her "a secret." None of the class intervened and the teacher walked out terrified.
The three white male racists gloomily sitting in some small-town United States meeting room in 2019 consider quitting their group as all the immigrants have gone. Joe (Sebastian Orozco) says, "I don't know where they all went, we killed them, they escaped, they vanished." He asks, "what enemy can I talk about in the town when there are only white people left?"
Two soldiers guarding the Chilean desert border with Peru in 1998 tentatively begin a conversation after hours of silence. The eighteen-year-old says he was sanctioned for getting drunk and beating up a foreigner but the problem will go away because the foreigner died of his injuries.
In a municipal office in Mexico 1880, a public executioner Jose (Sebastian Orozco) sits in dumb silence as his mother (Jimena Larraguivel) and an official (Eduardo Arcelus) talk about an execution that went wrong. But the official tells them executions are to be ended because they are no longer having an impact on the population. It prompts Jose to reveal that among the final words of the hanged man was the prediction that, "the day will come when they don't cut our heads off in front of people… because we'll cut them off ourselves."
Outside the nightclub Inferno in Chile 2017, a bouncer (Joseph Balderrama) wearing a bulletproof vest and military-style helmet tries to stop a young woman (Pía Laborde-Noguez) re-entering the nightclub where she had just been involved in a fight as she tried with her hands to rip open the mouth of another girl to see the community inside.
This is a well-performed, slightly surreal seventy-minute play on the contemporary anxieties about the loneliness and isolation of people in fragmented communities but it never really develops its vision, its characters, its occasional touches of humour and that makes it feel remote, fragmented and incomplete.
Reviewer: Keith Mckenna