A Friend's Story
Vijay Tendulkar
Akvarious Productions & NCPA Mumbai in association with the Indian Ministry of Culture, The High Commission of India and Teamwork Arts
Sam Wanamaker Playhouse, Shakespeare's Globe
–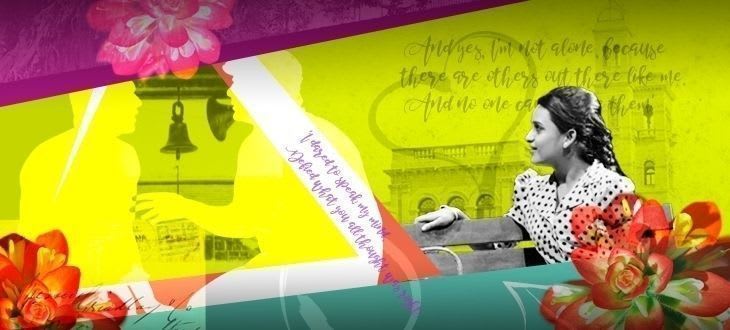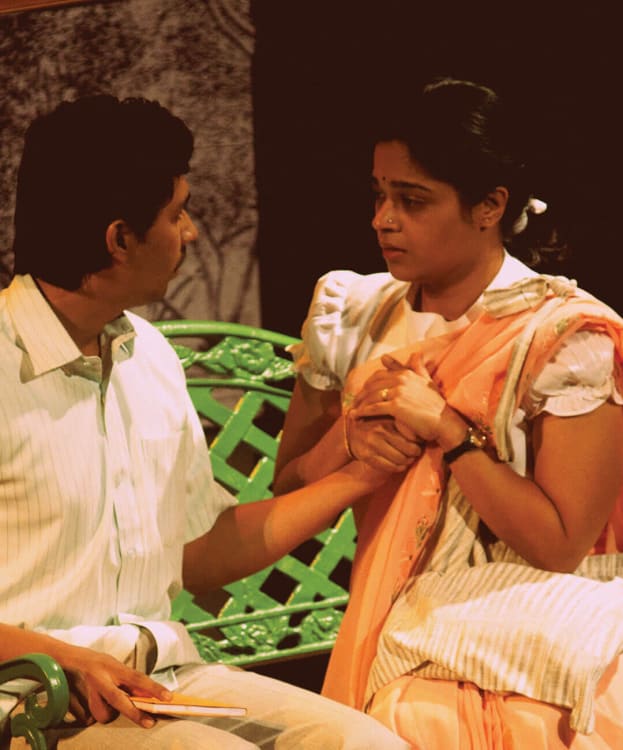 Vijay Tendulkar may not be a name well known in Britain but he was a highly regarded author and playwright, some of whose plays are now considered classics of Marathi theatre.
He wrote this play in 1974 in response to the career-harming outing of an Indian actress, but it wasn't performed until 1981. Its depiction of a lesbian romance made it very controversial and is probably the reason it had fewer productions than some of his plays. Indeed, when this translation by Gowri Ramnarayan was first staged in 2001, it was still a difficult subject and remained so when this production was mounted in Pune in 2015.
Poona (modern Pune) is where Tendulkar sets it, among college students in the 1940s. Student Shrikant "Bapu" Marathe (Abhay Mahajan) finds a photograph and returns it to the girl in it, an attractive young woman called Mitra (Sayalee Phatak) to whom he is attracted. They become friends but it goes no further for, as she confides she is attracted to women.
College authorities will not allow male and female student to appear together in theatrical productions. Bapu's roommate is looking for girl to play the god Krishna in a show and asks Bupa to approach Mitra. She agrees and falls in love with Nama (Parna Pethe), the girl playing his consort, who begins to respond.
Bapu acts as a courier between them and lets Mitra and Nama use his room for their secret trysts but a visit from a male student, also interested in Mitra (and who himself wants to borrow the room to invite her there), leads to their exposure and subsequent separation. Nama is packed off to an arranged marriage in Calcutta and a distraught Mitra commits suicide.
It is Bapu who narrates the story. "You can't tell a love story in a dispassionate voice," he says to begin and he tells it with affection. That gentle approach informs the whole performance.
Director Akash Khurana handles the play with a light touch, playing down its strong drama, making tennis-racquet-wielding Mitra's orientation perhaps less challenging to an India audience that might be disturbed by the subject. The girls' romantic meeting is played very discreetly; the nearest it gets to the erotic is in a glimpse of a scene from the college production with Krishna embracing his lover. The play is making a case for female liberation as much as for acceptance of difference.
Mitra's demanding, self-centred behaviour is matched by a rapid delivery that, matched to her Indian accent, is sometimes difficult to follow but that doesn't stop Sayalee Phatak from getting the sense over and she gives her such a lively, giggly personality you can't help but like her. It is easy to see why easy-going Bapu so willingly goes along with things. Parna Penthe captures Nama's surprised pleasure at discovering herself responding to Mitra but later finds her intensity frightening. "When I talked about marriage she nearly strangled me," she tells Bapu.
Simply staged with just a bench and a couple of rostrums on the Wanamaker stage and its candlelight supplemented with some electric lamps, the production's effectiveness depends on the actors and they give it a moving sincerity.
By provoking discussion, A Friend's Story may have helped change some Indians' attitudes to homosexuality. Last month, India's Supreme Court gave LGBT people the right to express their sexual orientation under the country's Right to Privacy law—but its laws criminalising same-sex activity still stay in place.
Reviewer: Howard Loxton