A Game of Death and Chance
Ben Harrison
Grid Iron
Gladstone's Land
–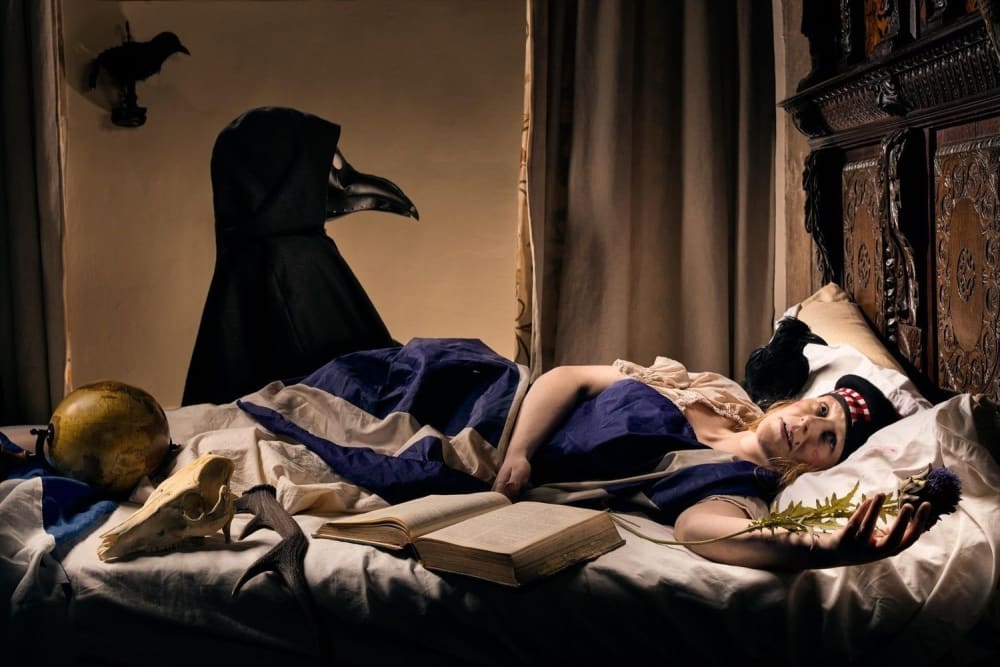 Devised by site-specific theatre company Grid Iron in association with the National Trust of Scotland and performed as a promenade play in one of the oldest buildings in Edinburgh, this series of character-driven monologues covers a tragic period of Scottish history from James IV / I and the Union of Crowns in 1603 to the Act of Union in 1707.
This was a difficult time in Scottish history, captured by the phrase 'The Killing Time' when dissenting Presbyterian ministers were executed for their rebellion to the English Bishop's new prayer book and plague stalked the land.
The play starts as we climb the very steep, winding stairs to the third floor of Gladstone's Land where servant to the Minister Lucky Lucy (Mary Gapinski) invites us to inspect his chamber and tells us a little of the prayer book rebellion at St Giles Church. She is interrupted by Deith (David Paul Jones) in plague mask and gown whose eerie presence belies a beautiful tenor voice that repeats a haunting Latin phrase of mourning for the dead.
We are then led downstairs to the second room where merchant Mr Somerville (Mark Kydd) is planning what in the end turned out to be an ill-fated exploration to the New World to open up trade routes. He has invested heavily but Deith appears again and through another chillingly beautiful anthem makes it clear that the expedition was doomed.
On the next floor down, we find a representation of Scotland, Caledonia (Wendy Seager), lying as a worn-out whore on a bed bemoaning the neglect of the King and the devastation that plague, famine and killing has made on the country.
Finally we meet Daniel Defoe—who was not only a writer but was at the time working as a spy for the English government—who regales us with a few choice tales from his list of acquaintances. But it would have been nice to have heard more on his opinions from his spying missions.
It's all really interesting, informative, well performed and produced: the rooms are atmospheric, the sound and lighting design (by David Paul Jones and Simon Wilkinson respectively) excellent and there is minimal walking (once you've ascended the first flight of stairs), and there are plenty of benches to sit on in each room.
The only criticisms would be the rather abrupt ending to the piece—a summing up at the end would have been good—and the fact that the time lines between each scene seemed a little muddled.
But well worth going to and a good introduction to a very sad period of Scottish history in a rather lovely and fitting setting.
Reviewer: Suzanne Hawkes