A Girl is a Half-formed Thing
Eimar McBride
Corn Exchange
Young Vic (The Maria)
–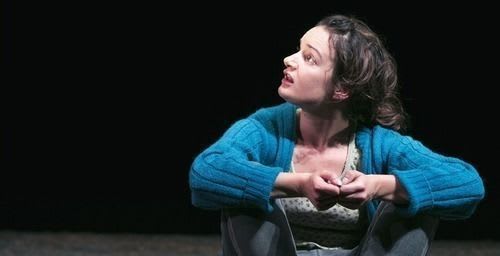 Eimar McBride's prize-winning debut novel takes you inside a young woman's head exploring tumbled thoughts and memories, snatches of conversation that trace a girl's life and experience from birth to being grown-up.
Director Annie Ryan's adaptation, which has already gained plaudits in Dublin and Edinburgh (where Philip Fisher reviewed it), doesn't attempt to "dramatize" it.
It retains text and its form without tinkering. The book is a succession of unidentified voices, all in the moment, sometimes in conversation, sometimes thoughts. Read aloud the pattern of exchange and the change of place and occasions all become clearer. Its pages cry out to be spoken. Here, a novel which, in its unabridged audio book version (read by the author), lasts eight hours has been cut to make an intense monologue that plays without interval for some 90 minutes.
In performance, decisions have been made about the identity of the many speakers, though it is left to the audience to recognize who they are. At first, it is not easy as the figure of actress Aoife Duffin emerges out of darkness, softly speaking its opening phrases: "For you. You'll soon. You'll give her name. In the stitches of her skin she'll wear your say."
There's a mother with a new daughter almost ready to be born, a baby boy with a brain tumour about to get a new sister in a Catholic family in Ireland. It is her head we are in, her story we follow.
On the way, there will be granda, concerned for their religious education, a missing father, difficult schooldays, bullied handicapped brother, hormone ripe teenage, college, a whole lot of men, drink, drugs and abuse, a perverted uncle, death and cancer and at twenty an ending in water. Is it a cleansing?
It is uncompromising writing and an uncompromising performance staged in a void with a floor that designer Lian Bell has littered with woodland detritus; a line of narrow pale panels high behind somehow make this feel underground: not a real place but a limbo. Sinéad Wallace's lighting changes direction and intensity and seems less to create drama and atmosphere than to pace and punctuate, give the eye some fresh focus as concentration continues on the solitary actress.
Under Ryan's direction, Duffin delivers a stunning performance, full of feeling yet changing character almost mid-breath. It demands such concentration from the audience that there is almost no time to be moved but to relax its pace would reduce its intensity. Duffin seems to have made these memories her own.
Reviewer: Howard Loxton